Jack Benny Program, The: Jack Is Kidnapped & The Lucille Ball Show (VHS, 1994)
---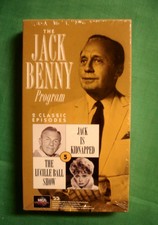 $3.13+ $2.60 Shipping
Est. Jul. 30 - Aug. 6 deliveryFrom Prescott, Arizona
Most relevant reviews
by

The Jack Benny Program

Two classic episodes from the master comedian, Jack Benny. The first episode sees Jack kidnapped and forced to pay $10,000 to be released. The long running tight wad gag is well used here as the gang take Jack to the bank to get the money. Blood-stone anybody?
Episode two has Lucille Ball playing Jack's wife in a retelling of the Paul Revere midnight ride story. These two comedy legends make a terrific team and have fun telling this historic event in their own inimitable way.
It would be nice to see these episodes on DVD but the quality shines through no matter the format. If you're looking for a good laugh or a touch of nostalgia, you can't go wrong with Jack Benny and friends.