Interaction of Color by Josef Albers (1975, Paperback, Revised)
---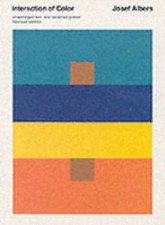 $6.50Free shipping
Est. Jul. 28 - Aug. 4 deliveryFrom 46222
---
More options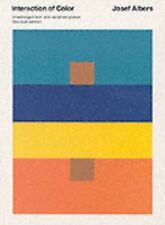 $6.46 Buy It Now
Free shipping

$7.86 Buy It Now
Free shipping

$7.86 Buy It Now
Free shipping
About this product
Synopsis
Synopsis

The masterworks of one of the most influential teacher-artists of the twentieth century, originally published as a limited, boxed edition in 1963, was conceived as a guide and teaching aid for artists, instructors, and students. A paperbound edition, containing the unabridged text of the original edition, plus ten representative color plates, chosen from the original silk-screen reproductions and printed by offset lithography, was published in 1971. Since those color plates have now been worn out in repeated reprintings, Mr. Albers has selected ten different color studies, with new comments, for this revised edition. "The text ofInteraction of Colorprovides the careful reader with the content of Josef Albers' famous color course. His teaching is based on learning by direct perception, and not by theories or color systems. There are many books on color on the market, but no one combines eyesight with such profound insight as Josef Albers does inInteraction of Color."Hannes Beckmann "The publication of this famous book in paperback is an event. . . . It is clearly written and easy to understand. . . . This book ought to be owned by any serious student or teacher, regardless of the kind of painting he does."The Artist
Product Identifiers
ISBN-10

0300018460

ISBN-13

9780300018462
Key Details
Author

Josef Albers

Number Of Pages

74 pages

Edition Description

Revised

Format

Paperback

Publication Date

1975-09-10

Language

English

Publisher

Yale University Press
Additional Details
Copyright Date

1975

Illustrated

Yes
Dimensions
Weight

7.2 Oz

Height

0.3 In.

Width

5.8 In.

Length

7.8 In.
Classification Method
LCCN

74-015585

LC Classification Number

ND1489.A4 1975

Dewey Decimal

701.85

Dewey Edition

22
Most relevant reviews
by

Interaction of Color

I got this book because it's required reading for my painting section. Albers' book is a landmark in color theory. The book is exactly about what the title suggests---how colors interact with each other.

At the core of the book is the notion that color is entirely relative--a color acts a number of different ways depending not only on it's size and shape, but also depending on the colors surrounding it.

There are a number of exercises in the book to demonstrate how color can mess with people's eyes and brains. Also, color can be deceptive depending on what environmental circumstances there are.

The paperback edition is small enough to fit into one of my side pockets, and is pretty light. It's a thin, condensed book that was designed with visual people in mind.
>
Essential reading for any artist who wants to understand color.Read full review

by

Awesome

GReat book, teaches you alot about true colors. This is the old version, has less pictures but is still very informative, would recommend to anyone who is taking Color or 2D classes, gives you a better understanding of how you should view color.