Inspector Lynley: In the Presence of the Enemy by Elizabeth George (1997, Paperback)
---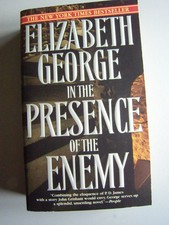 $26.50+ $12.51 Shipping
Est. Aug. 11 deliveryFrom brossard, QC
Great Prices on Fiction & Literature

About this product
Synopsis
Synopsis

Hailed as the "king of sleaze," tabloid editor Dennis Luxford is used to ferreting out the sins and scandals of people in exposed positions. But when he opens an innocuous-looking letter addressed to him at The Source, he discovers that someone else excels at ferreting out secrets as well. Ten-year-old Charlotte Bowen has been abducted, and if Luxford does not admit publicly to having fathered her, she will die. But Charlotte's existence is Luxford's most fiercely guarded secret, and acknowledging her as his child will throw more than one life and career into chaos. Luxford knows that the story of Charlotte's paternity could make him a laughingstock and reveal to his beautiful wife and son the lie he's lived for a decade. Yet it's not only Luxford's reputation that's on the line: it's also the reputation--and career--of Charlotte Bowen's mother. For she is Undersecretary of State for the Home Office, one of the most high-profile Junior Ministers and quite possibly the next Margaret Thatcher. Knowing that her political future hangs in the balance, Eve Bowen refuses to let Luxford damage her career by printing the story or calling the police. So the editor turns to forensic scientist Simon St. James for help. It's a case that fills St. James with disquiet, however, for none of the players in the drama seem to react the way one would expect. Then tragedy occurs and New Scotland Yard becomes involved. Detective Inspector Thomas Lynley soon discovers that the case sends tentacles from London into the countryside, and he must simultaneously outfox death as he probes Charlotte Bowen's mysterious disappearance. Meanwhile, his partner Detective Sergeant Barbara Havers, working part of the investigation on her own and hoping to make the coup of her career, may be drawing closer to a grim solution--and to danger--than anyone knows. In the Presence of the Enemy is a brilliantly insightful and haunting novel of ideals corrupted by self-interest, of the sins of parents visited upon children, and of the masks that hide people from each other--and from themselves.
Product Identifiers
ISBN-10

0553576089

ISBN-13

9780553576085
Key Details
Author

Elizabeth George

Number Of Pages

656 pages

Series

Inspector Lynley

Format

Paperback

Publication Date

1997-05-05

Language

English

Publisher

Random House Publishing Group
Dimensions
Weight

11 Oz

Height

1.1 In.

Width

4.2 In.

Length

6.9 In.
Classification Method
LCCN

95-037670

Dewey Decimal

813/.54

Dewey Edition

20
Reviews
Reviews

"Combining the eloquence of P.D. James with a story John Grisham would envy, George serves up a splendid, unsettling novel."People "Elizabeth George reigns as queen of the mystery genre....the Lynley books constitute the smartest, most gratifyingly complex and impassioned mystery series now being published."Entertainment Weekly "Rich...and addictively readable...elegant and unsettling, classy and caustic...a page-turner with unusual breadth and generous depth." USA Today "Elizabeth George only gets better...another superb British mystery."Daily News, New York "A masterpiece."Winston-Salem Journal "Tough, breathtaking."Cosmopolitan "A dazzler."New Yorker From the Paperback edition.
Most relevant reviews
by

For the money? Could not be any better, anxious to read it!

Book was as good as expected, I am very happy. The book is used but in perfect conditions, no ripped pages, no writing or damages anywhere to be found.

by

Another great book by George!

I loved how Havers character developed, and the many layers of personality of the characters were uncovered. This one was more political than her previous books that I've read, and really caught the rabid antagonism between liberals and conservatives.
As some of her other books, it dealt with complex family issues and the death of a child. It was interesting to note who really mourned the loss of this child, and the repercussions of this child's death.
I rated it excellent, and great read that goes beyond a muder mystery into the realm of great literature. Ms. George has a true gift, and I hope she continues to keep giving us great reads like this one.