Incarnations of Immortality: Bearing an Hourglass 2 by Piers Anthony (1985, Paperback)
---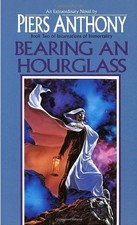 $7.98Free shipping
Est. Jul. 28 - Aug. 4 deliveryFrom Michigan, United States
About this product
Synopsis
Synopsis

When life seemed pointless to Norton, he accepted the position as the Incarnation of Time, even though it meant living backward from present to past. The other seemingly all-powerful incantations of Immortality--Death, Fate, War, and Nature--made him welcome. Even Satan greeted him with gifts. But he soon discovered that the gifts were cunning traps and he had become enmeshed in a complex scheme of the Evil One to destroy all that was good....
Product Identifiers
ISBN-10

0345313151

ISBN-13

9780345313157
Key Details
Author

Piers Anthony

Number Of Pages

384 pages

Series

Incarnations of Immortality

Format

Paperback

Publication Date

1985-09-12

Language

English

Publisher

Random House Publishing Group
Additional Details
Series Volume Number

2

Copyright Date

1984
Dimensions
Weight

6.6 Oz

Height

1 In.

Width

4.2 In.

Length

6.9 In.
Classification Method
LC Classification Number

PS3551.N73B4

Dewey Decimal

813/.54

Dewey Edition

19