Immortal Cities: Children of the Nile (PC, 2004)
---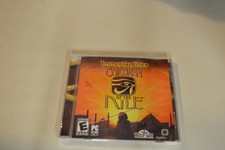 $3.19+ $3.50 Shipping
Est. Jul. 29 - Aug. 3 deliveryFrom Vancouver, Washington
About this product
Product Information
Product Information

The spiritual successor to classics like Caesar and Pharaoh, Immortal Cities: Children of the Nile is a city-building strategy game that casts players as Pharaoh and challenges them to construct a mighty empire in ancient Egypt. Players begin thousands of years ago, when the Valley of the Nile was populated by simple gatherers and fishermen. With guidance and direction, these primitive people can be lead to amazing accomplishments, and ultimately, to create Earth's first great civilization.

Unlike the entertaining but fairly robotic citizens of the fondly remembered xImpressions Games, Immortal Cities' "Children of the Nile" are designed to behave as individuals, with their own unique wants, needs, and relationships to one another. They organize themselves by household, and the player is given multifaceted access to information about each family's particular deficits and desires. While Children of the Nile is more heavily dependant on the individual personalities of the populace than most earlier city-building games, the primary means of providing for the needs of the people is still through the buildings, services, and institutions that the player creates and manages.

Players first must provide the indigenous people with the basic means to settle down and farm the valley. Once they've tamed the lands, some farmers may decide to become craftspeople, if the right facilities and resources are available. Each new class of citizen develops on the foundations of the ones before it. Craftsmen lead to more educated citizens, and eventually the city may support an elite caste of nobles -- if it can supply the expensive and exotic luxury items on which such an upper class thrives. To gain "prestige," which functions as leadership capital in this game, players must attend to the people's ever-more-sophisticated desires that evolve along with the society itself.

Children of the Nile incorporates an interesting twist on the city-building gamer's conventional role as an abstract, immortal leader. In a sense, Immortal Cities players take the role of an entire dynasty. As each Pharaoh grows old and passes on, another may take his place, but the ease of these transitions is based on the dynasty's level of prestige. A great and distinguished leader should have little trouble passing power on to the heir of his choice, but the people may seek new leadership from other factions when a poorly perceived Pharaoh vacates his throne.

Immortal Cities: Children of the Nile is built on a version of Stainless Steel Studios' Empire Earth game engine, and features full 3D graphics. The game ships with editing tools, to allow players to create their own scenarios, or even complete campaigns. Tilted Mill development studio was founded by former members of the Impressions team.
Product Identifiers
Publisher

Myelin Media

Game

Immortal Cities: Children of the Nile

MPN

180951000004

UPC

180951000004
Key Features
Platform

PC

ESRB Rating

E - Everyone

Genre

Simulation

Location

USA
Tech Details
ESRB Descriptor

Mild Violence

Control Elements

Keyboard,Mouse

Release Year

2004

Game Special Features

Lead your people and build a dynasty that will span 2,000 years