If I Have a Wicked Stepmother, Where's My Prince? by Melissa Kantor (2005, Hardcover)
---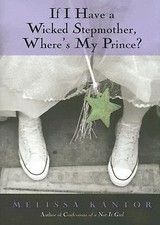 $13.99Free shipping
Est. Jul. 27 - Aug. 9 deliveryFrom Atascadero, California
About this product
Synopsis
Synopsis

When high school sophomore Lucy Norton's father remarries, her life is turned upside down. She and her father move from their West Coast home to a suburb on Long Island. With a small bedroom in the unfinished basement, a wicked stepmother and bratty stepsisters, countless chores, a blank social calendar, and a huge crush on the dashing prince of the varsity basketball team, Lucy's life has all the makings of a Cinderella story. So with all the characters in place, will Lucy get the prince and live happily ever after? In this royally funny and romantic novel, Melissa Kantor explores the struggle of finding your true prince and more important ? yourself.
Product Identifiers
ISBN-10

1415627630

ISBN-13

9781415627631
Key Details
Author

Melissa Kantor

Number Of Pages

283 pages

Format

Hardcover

Publication Date

2005-01-01

Language

English

Publisher

Hyperion Press
Dimensions
Weight

15.7 Oz

Height

1 In.

Width

5.9 In.

Length

8.5 In.
Target Audience
Group

Young Adult Audience

Grade From

Fifth Grade

Grade To

Ninth Grade

Age Range

12 - 17
Classification Method
LCCN

2006-271388

LC Classification Number

PZ7.K11753If 2005

Dewey Decimal

[Fic]

Dewey Edition

22
Most relevant reviews
by

Love this book. Glad I bought it! I reread this book all the time!

I love this book. I got it all the time from the library. I am glad to have this book in my own personal library. I would recommend this book to everyone.

by

Wicked Stepmother Review

When I bought this book, I didn't know that it was geared toward teenagers. It was still a pretty good book though. The main character Lucy has been uprooted from her California home and relocated to Manhattan. She doesn't get to see her father much because he is a lawyer that works in California. She is forced to live with her "wicked" stepmother and stepsisters. Some parts of the book seemed predictable. It was an easy read. The story line didn't seem very realistic. A girl who isn't noticed by anyone is suddenly the star basketball player's girlfriend. I guess that I would recommend this book for teens. It has a sort of sparkle to it that a 15 year old would love.