I Wanna Iguana by Karen Kaufman Orloff (2004, Hardcover)
---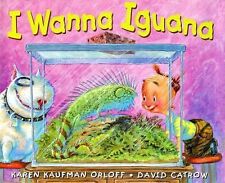 $9.94+ $3.99 Shipping
Est. Feb. 23 - Mar. 7 deliveryFrom Grand Rapids, MI
About this product
Synopsis
Alex just has to convince his mom to let him have an iguana, so he puts his arguments in writing. He promises that she won't have to feed it or clean its cage or even see it if she doesn't want to. Of course Mom imagines life with a six-foot-long iguana eating them out of house and home. Alex's reassurances: It takes fifteen years for an iguana to get that big. I'll be married by then and probably living in my own house. and his mom's replies: How are you going to get a girl to marry you when you own a giant reptile? will have kids in hysterics as the negotiations go back and forth through notes. And the lively, imaginative illustrations show their polar opposite dreams of life with an iguana.

Alex just has to convince his mom to let him have an iguana. He promises that she won't have to feed it or clean its cage or even see it if she doesn't want to, but all Mom can imagine is the iguana growing larger and messier until it takes over the entire house. Hilarious notes go back and forth as Alex negotiates with his mother, using all his powers of persuasion, while their polar-opposite dreams of life with and iguana are shown in David Catrow's hysterical illustrations. See how clever and funny family debates can be!


Product Identifiers
ISBN-10
0399237178
ISBN-13
9780399237171


Key Details
Author
Karen Kaufman Orloff
Number Of Pages
32 pages
Format
Hardcover
Publication Date
2004-09-09
Language
English
Publisher
Penguin Publishing Group


Additional Details
Copyright Date
2004
Illustrated
Yes


Dimensions
Weight
14.4 Oz
Height
0.4 In.
Width
10.8 In.
Length
8.8 In.


Target Audience
Group
Juvenile Audience
Grade From
Preschool
Grade To
Third Grade
Age Range
4 - 8


Classification Method
LCCN
2002-010895
LC Classification Number
PZ7.O6332Iw 2004
Dewey Decimal
[E]
Dewey Edition
21


Contributors
Illustrated by
David Catrow


Most relevant reviews
by

a book worth reading and one kids love, Awsome book & cute story.

I had to buy this item because the one i already had was so worn out from reading it to the children i work with daily that i had to get a second copy. The children i read to daily always request this book it is by far one of there favorites and is just a very cute story.

by

Does your child want you to buy them a critter??

Great book! Dialog in book is in the form of letters written from Alex to his Mom and from Mom to Alex. Alex gives convincing arguments on why he should be allowed to get a baby iguana from his friend. Mom responds to each letter with why not.
I read it at our school's Scholastic Reading Family Fun night to our son. And although there we other parents and children reading I found myself laughing out loud at parts. We have a 4 yr old son that has been asking for a lizard so this was right up our alley.
Illustrations are brightly colored, funny and detailed- although they could have tamed Alex's wild red hair. A+ book. So good I went on eBay to find us a copy the next day.