I Spy: Fun House : A Book of Picture Riddles by Jean Marzollo (1993, Hardcover)
---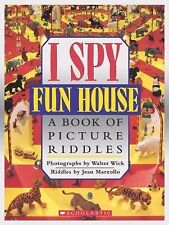 $7.84+ $3.99 Shipping
Est. Feb. 23 - Mar. 7 deliveryFrom Grand Rapids, MI
About this product
Synopsis
Amuse your mind and startle your eye with picture riddles for one and all! Welcome to the 'I SPY Fun House', where you'll meet the laughing clown and circus band, see the magic show and puppet theatre, and take your chances in the mirror maze and creepy-crawly cave. Named 'Best Book of the Year' by 'Publishers Weekly'.

This "I Spy" book has children search fun house scenes for hidden items.

With 24 million copies sold, the bestselling I Spy series is being relaunched with new designs and foil covers. This bestselling book features riddles that send readers searching through 13 photographs with a fun house theme.


Product Identifiers
ISBN-10
0590462938
ISBN-13
9780590462938


Key Details
Author
Jean Marzollo
Number Of Pages
40 pages
Series
I Spy Ser.
Format
Hardcover
Publication Date
1993-03-01
Language
English
Publisher
Scholastic, Incorporated


Additional Details
Copyright Date
1993
Illustrated
Yes


Dimensions
Weight
16 Oz
Height
0.4 In.
Width
9.3 In.
Length
12.3 In.


Target Audience
Group
Juvenile Audience
Grade From
Preschool
Grade To
Third Grade
Age Range
4 - 8


Classification Method
LCCN
92-016425
LC Classification Number
GV1507.P47W523 1993


Contributors
Illustrated by
Walter Wick


Most relevant reviews
by

Other I Spy Books are better

We bought this I Spy Funhouse book because our 2-year old daughter received a similar one from a cousin and enjoys reading it by herself. This particular I Spy book is quite frankly a little creepy. I am not a big clown fan, and this book is chock full of them. The book is not light and joyous, but somewhat dark and spooky. I do not recommend this I Spy book, but rather other lighter versions of the same concept. Kids love them, just not this one!

by

I spy fun house 1993

Some spaced out blurry pictures! Also it is loaded with "Clowns", and many children are fearfull of them, including my neice!!!