I Can Make You Thin : The Revolutionary System Used by More Than 3 Million People by Paul McKenna (2008, Hardcover / Mixed Media)
---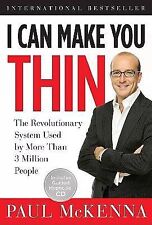 $10.99Free shipping
Est. Aug. 3 - Aug. 10 deliveryFrom Battle Creek, Michigan
About this product
Synopsis
Synopsis

Diets Don't Work. This Does. Thanks to Paul McKenna's revolutionary book and CD set, millions of people have watched the pounds melt away. And they did it effortlessly, without counting calories, coping with food restrictions, or fighting cravings. That's why it's already an international blockbuster that sold over one million copies in the UK, where it topped the bestseller list for three years running. McKenna's system is so successful because it's not a diet; instead, he uses the latest psychological techniques to transform the way you think about food. No wonder this popular TLC host has a roster of celebrity clients! This innovative book and CD set shows you how to: - Speed up your metabolism - Stop self-sabotage - Defeat cravings and eat less--without feeling like you're missing out - Feel totally confident. The combination of reading and listening will change your attitude--and allow you to take control of your diet--and reach your goal.,Paul McKenna, PhD, is the most popular nonfiction author in the UK and his television shows have been watched by millions of people in 42 countries around the world. He has worked with Hollywood movie stars, Olympic gold medalists, rock stars, business leaders, and royalty. Now it's your turn! As you learn McKenna's amazing system, the cutting-edge psychological techniques will help you start to lose weight right away. There are no diet plans, no exercise programs, and best of all, no willpower is required. You can use this revolutionary weight-loss system again and again as McKenna works with you to easily re-pattern your thoughts, attitudes, and beliefs about food, your body, and yourself. To inspire and help remind you of the system's simple key principles, the book also includes an easy-to-use wallet card. Book jacket.
Product Identifiers
ISBN-10

1402765711

ISBN-13

9781402765711
Key Details
Author

Paul McKenna

Number Of Pages

176 pages

Format

Hardcover / Mixed Media

Publication Date

2008-12-30

Language

English

Publisher

Sterling Publishing Co., Inc.
Dimensions
Width

5.5 In.

Length

8.2 In.
Classification Method
LC Classification Number

RM222.2.M436 2009

Dewey Decimal

613.25019

Dewey Edition

22