Human Physiology by Stuart Ira Fox (2010, Hardcover)
---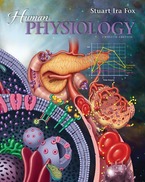 $18.11+ $3.99 Shipping
Est. Aug. 4 - Aug. 11 deliveryFrom 55112
About this product
Synopsis
Synopsis

#1 selling text with great explanations and just enough anatomy! Clear explanations and a solid learning framework have been market tested and refined. Fox helps students master the fundamentals by providing appropriate anatomical detail. Human Physiology, Twelfth Edition, is intended for the one-semester Human Physiology course often taken by allied health and biology students. The beginning chapters introduce basic chemical and biological concepts to provide students with the framework they need to comprehend physiological principles. The chapters that follow promote conceptual understanding rather than rote memorization of facts. Health applications are included throughout the book to heighten interest, deepen understanding of physiological concepts, and help students relate the material to their individual career goals. Every effort has been made to help students integrate related concepts and understand the relationships between anatomical structures and their functions.
Product Identifiers
ISBN-10

0073378119

ISBN-13

9780073378114
Key Details
Author

Stuart Ira Fox

Format

Hardcover

Publication Date

2010-09-01

Language

English

Publisher

McGraw-Hill Companies, The
Additional Details
Edition Number

12

Copyright Date

2011
Classification Method
LCCN

2010-010420

LC Classification Number

QP34.5.F68 2011

Dewey Decimal

612

Dewey Edition

22
Most relevant reviews
by

human physio book

when i received the book i purchased, the flimsy packaging was ripped and the book was bent in a corner. Luckily it did have too much damage, but terrible shipping material. why would you send a heavy book in a paper material, I have no idea why when that packaging material is used for small amounts of paper and not a book!

Verified purchase: Yes | Condition: Used

by

Required text...exactly what I needed

The book is the one required to take the course so worked out perfect. Received very quickly and was a great deal. Thank you and will return for future purchases. Perfect condition

Verified purchase: Yes | Condition: Used

by

This book was just what I needed for class & saved me a lot of time/money!

I bought this used book for class in order to save money.

I like that the textbook was:
Nice condition for having been used.
Product completely intact.
Shipped soon.
Great value.

As far as I can tell, this physiology text is great for any beginner course and goes into enough depth. The book was recommended by my professor.