Human Biology : Concepts and Current Issues by Michael D. Johnson (2011, Paperback / Mixed Media)
---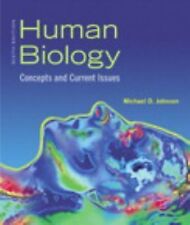 $184.07Free shipping
Est. Jul. 29 - Aug. 5 deliveryFrom B&N Warehouse
---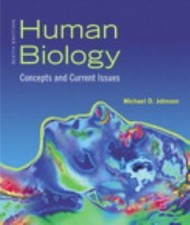 $145.26 Buy It Now
Free shipping
About this product
Synopsis
Synopsis

Award-winning teacher Michael D. Johnson catches your interest immediately by connecting basic biology concepts to real-world issues that are relevant to your life. Through a storytelling approach and extensive online support, Human Biology: Concepts and Current Issues, Sixth Editionnot only demystifies how the human body works but helps you to become a better consumer of health and science information. Each chapter now opens with Johnson's popular "Current Issue" essays, and inside each chapter are entries from the author's own, frequently updated blog.
Product Identifiers
ISBN-10

0321794273

ISBN-13

9780321794277
Key Details
Author

Michael D. Johnson

Number Of Pages

624 pages

Format

Paperback / Mixed Media

Publication Date

2011-12-07

Language

English

Publisher

Benjamin-Cummings Publishing Company
Additional Details
Edition Number

6

Copyright Date

2012
Dimensions
Weight

45.8 Oz

Height

0.3 In.

Width

9 In.

Length

10.9 In.
Classification Method
Dewey Decimal

612

Dewey Edition

22