Hot Wheels: Track Attack (Nintendo Wii, 2010)
---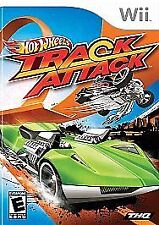 $45.00Free shipping
Est. Feb. 18 - Feb. 23 deliveryFrom Niagara Falls, New York
About this product
Product Information
Hot Wheels: Track Attack is an arcade-style racing game, with customizable courses, accessible controls, physics-defying super-cars, and outrageous jumps and stunts. The Wii edition of the game features 32 recognizable Hot Wheels vehicles, ready to race or customizable with new paint and performance upgrades. The game's editable tracks are also inspired by the iconic Mattel toy line, with banked turns and loops built from flexible, orange roadway. In the main story mode, drivers compete in races through four game world environments, each with a monstrous boss character whose villainy must be overcome.


Product Highlights
Video


Product Identifiers
Publisher
THQ
Game
Hot Wheels: Track Attack
MPN
785138303864
UPC
785138303864


Key Features
Platform
Nintendo Wii


Tech Details
Control Elements
Gamepad/Joystick
Number of Players
1-4
Release Year
2010
Game Special Features
Arcade-style racing with accessible controls


Virtual versions of real Hot Wheels vehicles


Customizable tracks full of jumps and stunts




Most relevant reviews
by

Not sure if it was a defected product?

My loved it! But it only worked for 2 days...? But since I did answer right away I didn't think there was anything you could do for us? I was thinking of maybe buying another with some kinda of discount? Thanx for your time

by

So much fun for a parent too!

My 4 year old LOVES this game. It's not to complicated for him to play alone and it's so much fun. I have played with him many times now and it really is an awesome game. Boys love the sounds of the engines and the different tracks and cars to choose from. Great game!

by

great buy

Bought this for my grandson's collection, he loves his Wii Games and has a blast playing this exciting game, he said it's like he's really in the race him self. He hasn't mastered it yet, but he's having fun tring when he's allowed to play, he's only 10.