High, Low and in Between/The Late Great Townes Van Zandt by Townes Van Zandt (CD, Oct-1996, EMI Music Distribution)
---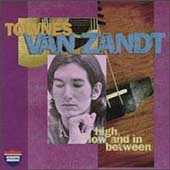 $7.56+ $6.05 Shipping
Est. Aug. 8 - Aug. 15 deliveryFrom Hamilton, Ontario
About this product
Album Features
UPC:

724385393020

Artist:

Townes Van Zandt

Format:

CD

Release Year:

1996

Record Label:

EMI Music Distribution

Genre:

Country,Progressive Country
Details
Playing Time:

70 min.

Contributing Artists:

Larry Carlton

Producer:

Kevin Eggers,Jack Clement,Dan Loggins (Compilation)

Distributor:

EMI Music Distribution

Recording Type:

Studio

Recording Mode:

Stereo

SPAR Code:

n/a
Most relevant reviews
by

High, Low & In Between : The Review

This is a particularly good "first time buyer" choice. This recording features a great variety of songs from a good number of years. It also encompasses a good variety of his work. While all of the songs are prime examples of Townes' own brand of melancholy cowboy songs, there are better examples available by Townes Van Zandt, but this is a great selection of his timeless works. Over all a good song selection, good quality sound, and the recording plays for about an hour, so you get your money's worth from this one.

by

Amazing album you can listen to over and over again!

Awesome album!! Has a great compilation of songs from a great artist. Some of his best work is on this album. Definitely not a disappointment at all. Any fan would love this!!!