Heavy Duty Truck Systems by Sean Bennett, Ian Norman, Robert Scharf, Andrew Norman and John A. Corinchock (2000, Hardcover, Revised)
---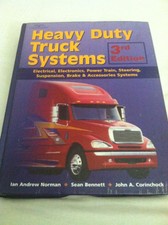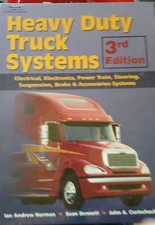 About this product
Synopsis
The third edition of this best-selling comprehensive introduction to servicing medium-heavy duty trucks has been significantly updated and expanded. Coverage added includes twelve new or expanded chapters, including a comprehensive introduction to electricity and electronics, the latest on electronic automatic transmissions, updated braking systems including ABS, and completely revised chapters on air-conditioning to make it compliant with today's standards. In addition to the revisions to the book, there is now a comprehensive support package including an all new workbook featuring numerous and practical job-sheets for lab activities.


Product Identifiers
ISBN-10
0766813401
ISBN-13
9780766813403


Key Details
Author
Andrew Norman, Ian Norman, John A. Corinchock, Robert Scharf, Sean Bennett
Number Of Pages
1094 pages
Edition Description
Revised
Format
Hardcover
Publication Date
2000-12-07
Language
English
Publisher
Delmar Cengage Learning


Additional Details
Edition Number
3
Copyright Date
2001
Illustrated
Yes


Dimensions
Weight
85 Oz
Height
1.8 In.
Width
8.9 In.
Length
11.1 In.


Target Audience
Group
College Audience


Classification Method
LCCN
00-040466
LC Classification Number
TL230.2.N67N67 2000
Dewey Decimal
629.28/74
Dewey Edition
21


Table Of Content
Table Of Content
Chapter 1. Introduction to Servicing Heavy-Duty Trucks. Chapter 2. Shop Safety and Operations. Chapter 3. Tools and Fasteners. Chapter 4. Preventive Maintenance Program. Chapter 5. Fundamentals of Electricity. Chapter 6. Fundamentals of Electronics and Computers. Chapter 7. Charging, Starting, and Chassis Electrical Circuits. Chapter 8. Diagnosis and Repair of Electronic Circuits. Chapter 9. Clutches. Chapter 10. Standard Transmission. Chapter 11. Standard Transmission Servicing. Chapter 12. Torque Convertors. Chapter 13. Automatic Transmissions. Chapter 14. Automatic Transmission Maintenance. Chapter 15. Electronically Automated Standard Transmissions. Chapter 16. Allison Commercial Electronic Control Transmissions. Chapter 17. Allison World Transmission. Chapter 18. Drive Shafts and Driveline Retarders. Chapter 19. Heavy Duty Truck Axles. Chapter 20. Heavy Duty truck Axle Service and Repair. Chapter 21. Steering systems. Chapter 22. Suspension Systems. Chapter 23. Wheels and Tires. Chapter 24. Truck Brake Systems. Chapter 25. Hydraulic and Air-over-Hydraulic Braking Systems. Chapter 26. ABS Braking Systems. Chapter 27. Air Brake Servicing. Chapter 28. Vehicle Chassis Frame. Chapter 29. Heavy Duty Truck Trailers. Chapter 30. Fifth Wheels and Coupling Systems. Chapter 31. Heavy Duty Heating and Air-Conditioning Systems. Glossary.


Most relevant reviews
by

Heavy Duty Truck Systems-informative

This book is very informative and decriptive for the person who is persuing a profession in this field, ie; driver, technician, operations, sales...This book focuses on the how these systems operate and provide a general knowledge on how they work.

This book provides information in which people that work in this industry can understand the dialog when referencing how these systems operate.

Highly recommend this book for its descriptive content and illistration.