Harry Potter and the Chamber of Secrets (Nintendo Game Boy Advance, 2002) - European Version
---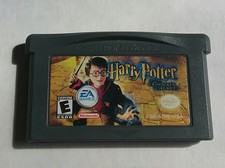 $3.99+ $2.95 Shipping
Est. Aug. 3 - Aug. 8 deliveryFrom La Crosse, Wisconsin
Great Prices on Video Games
About this product
Product Information
Product Information

J.K. Rowlings' boy wizard makes his Game Boy Advance debut in a title that closely follows the events found in both the book and second feature film in the Harry Potter series. The handheld version differs from its multi-platform siblings by featuring an isometric perspective as players attempt to solve the mystery behind recent attacks on the Hogwarts students. The game begins in Diagon Alley as Hagrid informs young Harry that he needs to visit the labyrinths of Gringotts Bank for money to purchase school supplies. While exploring their environment, players can converse with other characters and interact with the world through direct action and the use of spells.

Actions Harry can perform include opening chests, pulling levers, picking up and throwing items, pushing objects, and sneaking around hallways. Spells such as Flipendo, Incendio, and Skurge are learned during the course of play and are stored in Harry's notebook. Each spell can be charged for added power by holding down the button and watching as a horizontal meter fills from left to right. Other spells can be used to solve puzzles or to reveal areas otherwise inaccessible. Players, for example, can levitate heavy objects by casting Wingardium Leviosa or open magically locked items with the Alohaomora spell.

In addition to exploring the grounds of Diagon Alley and Hogwarts, players can take to the skies for some flying practice or a heated game of Quidditch. A number of collectables are strewn throughout the levels, including chocolate frogs to increase Harry's stamina bar, allowing him to withstand more damage. Twenty-five Famous Witches and Wizards Cards can also be found for a special reward. Players wishing to save progress can do so only by finding a save book hidden somewhere within the region. Owners of Harry Potter on GameCube can link both titles up to unlock additional areas and/or play a sliding puzzle game on the handheld.
Product Identifiers
Publisher

EA Games

Game

Harry Potter and the Chamber of Secrets

MPN

5030930031152

UPC

5030930031152
Key Features
Platform

Nintendo Game Boy Advance

ESRB Rating

E - Everyone

Genre

Action, Adventure

Location

Europe
Tech Details
ESRB Descriptor

Violence

Control Elements

Gamepad/Joystick

Number of Players

1

Release Year

2002

Game Special Features

Earn House Points by completing lessons while in school; lose them for getting caught snooping around


Linking to the GameCube version of the game reveals a new area to explore on Hogwarts grounds


Catch the Golden Snitch in a game of Quidditch by flying through rings while on a broomstick


Collect Bertie Bott's Every Flavor Beans to earn special rewards


Learn new secrets and helpful hints by locating Owl Posts and reading scrolls