Hard Drivin' (Sega Genesis, 1991)
---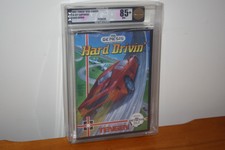 About this product
Product Information
At one time or another, most of us dream of pushing our cars to the limit, just to see what they're capable of doing. Of course, you aren't going to get much performance out of that Honda Civic, so it would probably be a let down if you really did put the pedal to the metal. But now, thanks to HARD DRIVIN' for the Sega Genesis, you can live out your wildest driving fantasies. Based on the arcade hit of the same name, in HARD DRIVIN' you'll find two different tracks: the Speed Track and the Stunt Track. While the Speed Track will challenge you to push maximum RPMs; the Stunt Track will give you the chance to drive on something that resembles a Hot Wheels track complete with ridiculously banked turns, jumps, and even full loops. Whether you're a speed demon or a daredevil, HARD DRIVIN' will give you exactly what you need.


Product Highlights
Video


Product Identifiers
Publisher
Tengen
Game
Hard Drivin'
UPC
031763017509


Key Features
Platform
Sega Genesis


Tech Details
ESRB Descriptor
Animated Violence
Control Elements
Gamepad
Number of Players
1
Release Year
1991
Game Special Features
Based on the arcade hit; put the pedal to the metal on the Speed Track; test your daredevil skills on the Stunt Track; amazing 3D high-speed action; see all your crashes in slo-mo instant replay
Also Available In This Platforms
Arcade, Commodore 64, Lynx, PC Games, Windows


Most relevant reviews
rall4255Jan 12, 2016Verified purchase - USED

by
by

Hard driven sega genesis

Great for a 3 or 4year old to play. but graphics are very cheap and poorly done. I like the fact that it entertains my 4yr old who loves to play car racing games. I dislike the graphics very much. While you are driving the road ahead is overlapped until you get to closer. The only view is in side the car and the car graphics are boxy. Nice to have other cars in the game come at you and you have to make sure not to crash, good stimulation game for a child to learn how to avoid crashing

by

Bad Graphics.......Sounds Are Ok

Graphics in this game are very poor. When you crash you seem to break the same car parts everytime no matter what. Sounds are ok but not the best. I give it a 1/5.