Grey's Anatomy - The Complete Fourth Season (Blu-ray Disc, 2008, 5-Disc Set)
---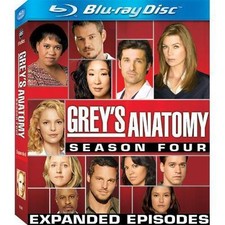 $21.98+ $3.00 Shipping
Est. Jul. 27 - Aug. 3 deliveryFrom 37129
About this product
Additional Details
Genre:

Dramas,Television

Format:

Blu-ray Disc

Display Format:

5-Disc Set
Most relevant reviews
by

Love love love this show!

I'm so in love with this show! It is addictive. A friend of mines used to we watch Grey's Anatomy when I first started but I was more of a House fan. Boy oh boy I had no idea what I was missing. I love me so Meridith and McDreamy and I love George and Miranda. This show so goes there.

by

The Life Show on Its Fourth Season Does Not Disappoint

Portraying the twists and turns, fates and fortunes of life is what "Grey's Anatomy" all about, and with this fourth season this was no different. Some highlights:

- Christina still hasn't coped with the loss of Burke. Her obssession with perfectionism at work is a clear sign of that. Additionally, she has to deal with the tough temperament of Dr. Hahn, Burke's substitute, who just neglects Christina's existence.
- Derek develops a romantic relationship with one of the nurses at the hospital, but he clearly is still in love with Meredith, to the point they seem to get back together in the season finale after a very tough surgery that unites them under the same cause.
- The marriage between George and Callie turns out to be a failure, as well as the relationship between George and Izzie, who both initially thought they had real feelings for each other.
- Miranda's also with emotional issues regarding her marriage, once her devotion to work seems to be bigger than her family life.
- Meredith starts therapy in order to work out her insecurities toward things, especially her shaky relationship with Derek.

These were just a few of them. There's also the relationship between Alex and Rebecca, Lexie and Meredith, Callie and Hahn and Richard and Adelle that would take lines and lines to describe. Once again, this season was just about relationships. Medical cases, as always, are just in the background.

Some people complain they don't know where this show is going to. In fact, it is hard to predict with so many things happening in so different ways. What makes a TV show great is the unpredictability factor. Life is just that way: unpredictable. Things don't work out as planned, sometimes we make choices just to regret later, we do strange things and decisions in moments of weakness. When it comes to emotional issues, there is no logic involved, and expecting this show to be predictable would just ruin the magic it creates. This season is a good addition to fans who already own the previous seasons.Read full review

by

greys anatomy

everything was great, but had a little bit of truoble, but everything is working great now. i would suggest this seller to any body looking for greys anatomy or any other great movies or tv shows that they love.