Garfield: The Eleventh Garfield Fat Cat : Garfield Hams It up; Garfield Thinks Big, Garfield Throws His Weight Around by Jim Davis (1999, Paperback)
---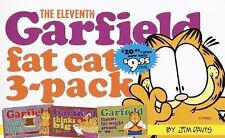 $7.19+ $3.99 Shipping
Est. Feb. 23 - Mar. 7 deliveryFrom Grand Rapids, MI
About this product
Synopsis
Collects comic strips featuring the famous feline with an appetite for lasagna.


Product Identifiers
ISBN-10
0345438019
ISBN-13
9780345438010


Key Details
Author
Jim Davis
Number Of Pages
384 pages
Series
Garfield
Format
Paperback
Publication Date
1999-09-07
Language
English
Publisher
Random House Publishing Group


Additional Details
Number of Volumes
3 pks.
Copyright Date
1999
Illustrated
Yes


Dimensions
Weight
12 Oz
Height
1 In.
Width
8.4 In.
Length
5.2 In.


Target Audience
Group
Trade


Classification Method
LCCN
99-090502
LC Classification Number
PN6728.G28D3785 1999
Dewey Decimal
741.5/973
Dewey Edition
21


Most relevant reviews
fear_testJan 20, 2016Verified purchase - USED

by

a great birthday present !

i got these as a birthday present and i love them !

by

FUN READING

MY 9 YR OLD SON REALLY WANTED THIS BOOK. HE LOVES COMICS AND COMICS-TYPE BOOKS. THIS DEFINITELY HAS HIM ENTERTAINED. LOVED IT! WOULD RECOMMEND TO YOUNG & OLD!