Frontiers in Electronic Testing Ser.: Analog and Mixed-Signal Boundary-Scan : A Guide to the IEEE 1149.4 Test Standard 16 (1999, Hardcover)
---

$303.10Free shipping
Est. Jul. 27 - Aug. 4 deliveryFrom Fairfield, Ohio
---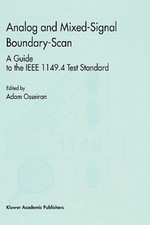 $256.00 Buy It Now
Free shipping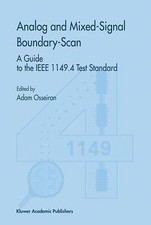 $259.00 Buy It Now
Free shipping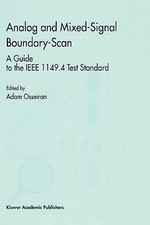 $303.45 Buy It Now
Free shipping
About this product
Synopsis
Synopsis

The Mixed-Signal Boundary-Scan Test Bus is the natural complement to the widely used Boundary-Scan IEEE Std. 1149.1, commonly known as JTAG. This new mixed-signal standard is called IEEE Standard 1149.4 and is mainly dedicated to the manufacturing test of analog and mixed-signal boards. But like the IEEE 1149.1 it can be used for many other purposes: the test buses and their digital control form a very general analog data highway. Increasingly, mixed-signal boards are gaining complexity, making their testing process extremely challenging. At the same time, IC complexity and technology are getting so sophisticated that testing ICs at the board level becomes very expensive. Embedding a part of the board tester on chip is the aim of the IEEE 1149.4.
Product Identifiers
ISBN-10

0792386868

ISBN-13

9780792386865
Key Details
Number Of Pages

156 pages

Series

Frontiers in Electronic Testing Ser.

Format

Hardcover

Publication Date

1999-10-31

Language

English

Publisher

Springer
Additional Details
Series Volume Number

16

Number of Volumes

1 vol.

Copyright Date

1999

Illustrated

Yes
Dimensions
Weight

33.2 Oz

Width

6.1 In.

Length

9.2 In.
Target Audience
Group

Scholarly & Professional
Classification Method
LCCN

99-051735

LC Classification Number

TK7888.4TK1-9971

Dewey Decimal

621.3815/48

Dewey Edition

21
Table Of Content
Table Of Content

List of Figures. List of Contributors. Preface. 1. Introduction to the IEEE 1149.4. 2. The Boundary-Scan Standard. 3. IEEE 1149.4 Architecture and Instruction Set. 4. System Test Methodologies Using IEEE 1149.4. 5. Peripheral Cell Design for IEEE 1149.4. 6. Structural Testing. Summary. Index.