From Dusk Till Dawn 3: The Hangman's Daughter (DVD, 2006)
---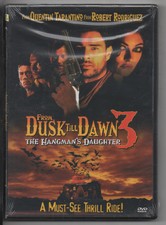 $7.56+ $4.53 Shipping
Est. Aug. 5 - Aug. 11 deliveryFrom Toronto, ON
Most relevant reviews
by

From Dusk Till Dawn 3: The Hangman's Daughter

For a third installment, it was good! This outclassed the second installment. The characters were more interesting with real personalities, for better or for worse. There were no heroes here, only regular people in a most irregular circumstance. Desperate situations call for desperate measures. There were enough surprises to keep your interest throughout the movie. Not for the squeemish. The plot continued to develop, all the way to the end.

by

From Dusk Till Dawn 3 The Hangman's Daughter FANTASTIC

THE THEME BEHIND THE MOVIE WAS GOOD. I LOVE THE BUILDING THAT THEY SHOW AT THE END OF THE MOVIE WHERE IT GOES DEEP INTO THE HILL. THEM TURNING INTO BATS THAT'S COOL...