Friday the 13th - Part 2 (DVD, 1999, Checkpoint)
---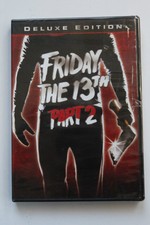 $5.35+ $2.50 Shipping
Est. Feb. 16 - Feb. 20 deliveryFrom Austin, Texas
About this product
A fresh batch of teenage camp counselors return to the ill-fated Camp Crystal Lake five years after its most recent atrocities. Since the apparent perpetrator of those crimes was decapitated by the only survivor, the plucky teens ignorantly go about the business of reviving the camp, unaware that they are being stalked by an unseen figure who lives in the woods, waiting for the right opportunity to take bloody revenge.


Product Highlights
Video Trailer:
Product Details
Edition:
Checkpoint
Number of Discs:
1
Rating:
R (MPAA)
Film Country:
USA
UPC:
097360145724
Additional Details
Genre:
Horror/Suspense
Format:
DVD
Display Format:
Checkpoint
"...Harry Manfredini's music does work extremely well once again, maximizing scenes..."
Variety - Berg. (05/06/1981)


Most relevant reviews
by

Friday the 13th - Part 2

This is a excellent movie. Part 2 is on the same level as Part 1. 5/5 Stars! Watch it!! A+
Vote "YES" if you found this Review was helpful!