Franklin: Franklin and the Thunderstorm by Paulette Bourgeois (1998, Paperback)
---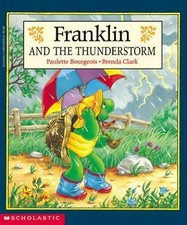 $3.89Free shipping
Est. Jul. 28 - Aug. 4 deliveryFrom 21704
About this product
Product Identifiers
ISBN-10

0590026356

ISBN-13

9780590026352
Key Details
Author

Paulette Bourgeois

Number Of Pages

32 pages

Series

Franklin

Format

Paperback

Publication Date

1998-03-01

Language

English

Publisher

Scholastic, Incorporated
Dimensions
Weight

3.4 Oz

Height

0.1 In.

Width

7.5 In.

Length

9 In.
Target Audience
Group

Juvenile Audience

Grade From

ps

Grade To

3

Age Range

4 - 8
Contributors
Illustrated by

Brenda Clark
Most relevant reviews
by

Franklin Book

This is an excellent book. Toddlers enjoy watching on TV or reading the book. Great pictures in this book. This book teaches toddlers about thunderstorms, lightning and rain. This is book is an easy way to teach your toddler about mother nature.

by

Great for kids afraid of thunderstorms

Our daughter asked us to find books for our 3 year old granddaughter this year. She asked us to find books about thunderstorms since our granddaughter is terrified of them. I ran across "Franklin and the Thunderstorm." It is excellent. I think after a few readings our granddaughter will be much less afraid of thunderstorms in the future.