Forza Motorsport 2 -- Platinum Hits (Microsoft Xbox 360, 2008)
---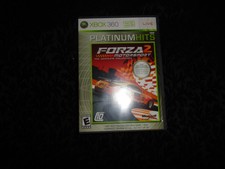 $19.99Free shipping
Est. Aug. 3 - Aug. 8 deliveryFrom Shorewood, Illinois
About this product
Product Information
Product Information

Microsoft's answer to Gran Turismo switches gears from Xbox to Xbox 360 with the release Forza Motorsport 2. The added horsepower of the Xbox 360 allows for high-definition visuals, advanced special effects, and a frame rate that clocks in at 60 frames per second. More than 60 tracks are available to race on, including such authentic venues as Silverstone Circuit, Mazda Raceway Laguna, and Sebring International Raceway. Gearheads can acquire more than 300 licensed vehicles from 50 top manufacturers, with each car's performance influenced by damage or wear, weather, and road conditions.

An assortment of tuning parts and customization options exist, as players decide on suspension kits, engines, body kits, brakes, paint schemes, and more before adjusting their vehicle's tire pressure, gear ratios, and various other settings from within a garage. Prized wheels can be snapped for fun or posterity in the "Forza Photo Mode," and Xbox Live support is once again included for players to test drive their custom cars while earning special credits to unlock bonus features. Races between rival cars can also be viewed on "Forza Motorsport TV," which lets players learn driving strategies and techniques from the top racers on Xbox Live.

The two-disc "Platinum Hits" version of Microsoft's best-selling racing game features all bonus content previously available for purchase online via Xbox Live. This includes two track packs, Japan's Twin Ring Motegi and the U.S.'s Road America circuits, and a total of 43 licensed cars from such manufacturers as Ferrari, Subaru, Nissan, Honda, Dodge, Renault, Porsche, Lamborghini, Audi, Pontiac, and BMW.
Product Identifiers
Publisher

Microsoft

Game

Forza Motorsport 2 -- Platinum Hits

MPN

882224743051

UPC

882224743051
Key Features
Platform

Microsoft Xbox 360

ESRB Rating

E - Everyone

Genre

Racing

Game Edition

Platinum Hits

Location

USA
Tech Details
Release Year

2008

Game Special Features

Two-disc version includes the game as well as bonus content previously available via Xbox Live


Adds 43 licensed cars to the original game


Includes both the Twin Ring Motegi and Road America circuits



Game Series

Forza Series