Flower Drum Song (VHS, 1991)
---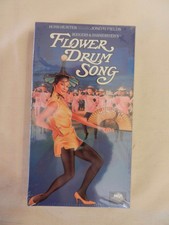 $8.89Free shipping
Est. Jul. 27 - Aug. 3 deliveryFrom Edgewood, New Mexico
Most relevant reviews
by

A real winner.

Very funny. Great cinematography, great acting from the whole cast. Makes me miss Jack Soo all over again. Color, acting, and script are outstanding.

by

FLOWER DRUM SONG

Since I was a young child I've loved this movie because it is one of the best movies that Rogers and Hammerstein ever produced. Its' musical magic and dancing lets everyone know that music is universal. I found myself singing along with the music. I convinced my son to watch the movie and now he loves it too. I purchase the movie because I had been waiting for years and for it to play on telelvision but it never did and I really wanted to see it again. Now I have my own copy and I can watch it as many times as I want which makes me very happy.

by

Flower Drum Song

Great old Hollywood musical,with lush songs,costumes and San Franisco as the setting. This movies will make you feel good!