Flip Video M2120 8 GB Camcorder - Brushed metal
---

$69.99+ $9.98 Shipping
Est. Feb. 10 - Feb. 13 deliveryFrom Atlanta, Georgia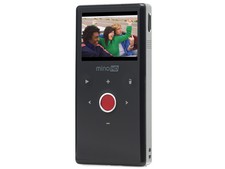 $48.30 Buy It Now
Free shipping
About this product
Product Highlights
Video


Product Identifiers
Brand
Flip Video
Model
M2120


Key Features
Digital Zoom
2x
Storage Type
Removable (Card/Disc/Tape)
Media Format
Flash Card, HDCAM
Screen Size
2"
Weight
4.1 Oz.


Optical Sensor
Sensor Type
CMOS
Sensor Size
1/4.5"
Optical Sensor Qty
1


Lens System
Focus Adjustment
Focus Free


Exposure
Exposure Modes
Automatic


Memory / Storage
Integrated Memory size
8 GB
Video Recording Length
2 Hours


Viewfinder
Viewfinder Type
None


Dimensions
Depth
0.63 in.
Height
3.94 in.
Width
1.97 in.


Display
Display Type
LCD
Display Rotation
Built-in
Screen Details
LCD display - TFT active matrix - 2" - color
Display Size
2"


Microphone
Microphone Type
Microphone - built-in - electret condenser - mono
Microphone Operation Mode
Mono


Connections
Connector Types
1 x HDMI output, 1 x USB
HDMI Output
Yes


System Requirements for PC Connection
Operating System Supported
Apple Mac OS X, Apple Mac OS X 10.5, Apple Mac OS X 10.6, MS Windows 7, MS Windows Vista, MS Windows XP


Battery
Battery Form Factor
Integrated


Resolution
Max Video Resolutin
1280 x 720


File Format
Digital Video Format
H.264


Other Features
Additional Features
Auto Power Save, Built-In Speaker, In-Camera Movie Editing, USB Charging, YouTube Capture Mode
High Definition Video Support
720p
Widescreen Video Capture
Yes


Miscellaneous
Color
Brushed metal
White Balance
Automatic
Video Capture
H.264 - 1280 x 720 - 30 fps - 7200 sec


Most relevant reviews
by

2nd Generation Flip Mino HD Review!

The camcorder itself gives out very good quality at it's price range. Recording at 720p at 30 frames per second, things look pretty good. Well, until you get into low light situations (Indoors, dark outside, etc.) The picture quality starts to degrade at that point, but not horribly (Well, unless its REALLY dark out). You get some "noise" at that point, the picture starts to become fuzzy and it's just not that pretty to look at. Another thing that you might want to be aware of is that it has no image stabilization. So if you have shaky hands (like me!) the video can be quite...well, shaky! Luckily, if you have a video editing program that has an image stabilization effect you can apply to your videos, it won't really be a problem. Otherwise, it would probably be a good idea to buy a small tripod for it!

The software that comes INSIDE the camcorder (no CDs here!) is a very basic video editing software. It allows you to view, trim, snap a photo, email, create a DVD and upload your videos to the internet in a few clicks. It might be nice for people who want to quickly edit and upload their videos to youtube. The 2nd generation Mino HDs also have a mini-HDMI to HDMI port on the bottom. Unfortunately, it doesn't come with this cord, so you'll have to buy one on your own time. There are no cords that come with them either, you simply connect it from a USB connector from the top of the camcorder. It pops out like a switch-blade, I think it's pretty neat :)

The controls on the back of the camera are touch sensitive and seem to be very responsive. Also, I'm not sure if this option comes with other Flip video cameras but you can choose to turn the recording light off on the 2nd Generation Mino HDs. I've heard some people complain about the light, so I thought I should throw that in there. All in all, I'd say the camera is pretty darn good. You may not get Hollywood type movies but it'll be pretty close!Read full review

by

Awesome camera - Good Value!

I'm giving this FLIP 4/5 stars.

The picture and sound quality are top notch, high definition with a super clear picture and crisp clean sound with no feedback of any sort. I used it at a Lady Gaga concert, and with most cameras I expected a lot of harsh extra noise, but surprisingly I could clearly hear every last note, and word.

It's completely easy to use - with a touch interface. forward backward record, zoom and play button. Pretty elementary stuff.

I shortened the stars when it came to battery life - The unit says full battery and 2 hours of video space left, but then the battery doesn't make it through the full 2 hours. I'm not sure if it's a flaw within my own camera, or if it's a Flip thing, but it definitely stinks when you need it to last.

Overall it was worth $45. Aside from the Battery Life, and crappy zoom, it's a good little camera for what it is, and it's super easy to use and upload.

Only other downfall is, you need to make sure you have the corresponding operating system on your pc/laptop. Cisco no long fixes, or does anything with FLIP which renders the item completely useless if it breaks, or won't upload to your system. do extra homework before purchasing!Read full review

by

REALLY AWESOME CAMCORDER!!!

I have only had it a few weeks but I LOVE it already. It's so easy to use. It's about the same size as my cell phone which makes it easy to keep with me and take where ever I go. The video quality is OUTSTANDING! I would recommend this product to anyone looking for a camcorder.

by

Great product, good price.

Easy to use and easy to download the videos,
I wish the screen were bigger,
I had a different video camera that I used prior to this one that was a little bigger but this one is comparable

by

Great little item.

Love it! Item is small to keep in your pocket or purse for quick access and also, easy to use .. awesome videos. There is nothing I dislike about this product.