Flavor of the Month : Kiss and Tell by Tori Carrington (2003, Paperback)
---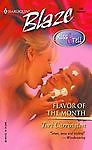 $5.97Free shipping
Est. Jul. 26 - Aug. 8 deliveryFrom Woodburn, Oregon
About this product
Product Identifiers
ISBN-10

0373791135

ISBN-13

9780373791132
Key Details
Author

Tori Carrington

Number Of Pages

256 pages

Format

Paperback

Publication Date

2003-11-01

Language

English

Publisher

Harlequin Enterprises, Limited
Dimensions
Width

4.2 In.

Length

6.6 In.
Classification Method
LCCN

2004-573411

LC Classification Number

CPB
Most relevant reviews
by

romantic reading books

i have gotten into reading sexy romantic books here latly. i really enjoy the stories. i bought the books because i wanted the books and the price was great for the amount of books i got. now i won't have to worry about buying some books for a little while.