Fists of Fury (DVD, 2001)
---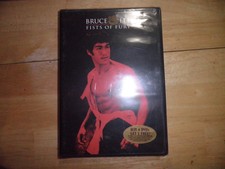 $6.99+ $2.95 Shipping
Est. Feb. 11 - Feb. 19 deliveryFrom Framingham, Massachusetts
About this product
A young martial arts expert makes a solemn vow to refrain from using his "Fists of Fury," and takes a job in an ice factory. When he discovers that the company is a front for a drug smuggling operation, he is forced to break his vow.


Product Highlights
Video Trailer:
Product Details
Number of Discs:
1
Rating:
Not Rated
Film Country:
Hong Kong
UPC:
024543018018
Additional Details
Genre:
Foreign Films
Format:
DVD
3 stars out of 5 -- "THE BIG BOSS is almost entirely rescued by then-newcomer Bruce Lee's gleaming charisma....His athleticism feels studied and surgical..."
Total Film - Andy Lowe (12/01/2006)


Most relevant reviews
by

Bruce Lee lover

I am a Bruce Lee lover and I have enjoyed all of his movies. I had to reorder this one because someone stole my original I had.

by

Bruce Lee

I love all the fighting in the movie. I bought it because my husband loves Bruse Lee. I can't recall some of the movie but I know it is good or I wouldn't sit and watch it everytime it comes on tv.