First Place 4 Health: Simple Ideas for Healthy Living by First Place 4 Health (2008, Paperback)
---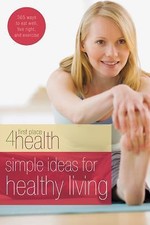 $3.80Free shipping
Est. Aug. 2 - Aug. 9 deliveryFrom 15137
Great Prices on Nonfiction
About this product
Synopsis
Synopsis

Healthy living doesn't have to be complicated, time-consuming and expensive. You can make simple daily choices that lead to weight loss and total health from the inside out! A key resource in the First Place 4 Health program, Simple Ideas for Healthy Living provides accurate and up-to-date health information and valuable tips for improving your nutrition, your physical activity, your relationships with God and others, and much more. Each section focuses on one of the four core areas of your life: emotional, spiritual, mental and physical. Topics include overcoming stress, making time for Bible study and prayer, accepting God's restoration and forgiveness, fostering a healthy body image, maintaining healthy living on the job, outsmarting the snack attack, preventing diabetes and high blood pressure, and how to get the most out of a 10-minute workout. Healthy living has never been so simple! Book jacket.
Product Identifiers
ISBN-10

0830745815

ISBN-13

9780830745814
Key Details
Author

First Place 4 Health

Number Of Pages

240 pages

Series

First Place 4 Health

Format

Paperback

Publication Date

2008-07-01

Language

English

Publisher

Gospel Light Publications
Additional Details
Copyright Date

2008

Illustrated

Yes
Dimensions
Weight

11.7 Oz

Height

0.6 In.

Width

6 In.

Length

9 In.
Target Audience
Group

Trade

Age Range

12 - UP
Classification Method
LCCN

2007-047196

LC Classification Number

BT732.S56 2008

Dewey Decimal

613

Dewey Edition

22