Far Cry (DVD, 2009, Unrated)
---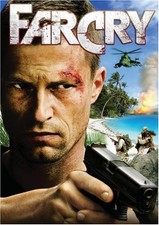 $8.00Free shipping
Est. Feb. 17 - Mar. 1 deliveryFrom Niagara Falls, New York
About this product
A hardened seaman and a dogged reporter become trapped on an island with a mysterious scientist, a ruthless band of mercenaries, and a vicious pack of unidentifiable creatures in BLOODRAYNE director Uwe Boll's seventh video game-to-screen adaptation. A team of mercenaries has been attacked on a remote island in the Pacific Northwest, and as mysterious reports begin to emerge from the chaos, a veteran Seattle newspaper editor sends top reporters Tom Moore and Valerie Constantine to the scene in hopes of getting the scoop on the story. Shortly after arriving on the island under the guidance of ship captain Jack Carver (Til Schweiger), the trio is attacked by mercenary commander Maria Sanchez. Though Tom is killed, Valerie and Jack manage to stage a daring escape and quickly begin to bicker over their plan as Maria's murderous soldiers fast begin gaining ground. Despite Captain Jack's plan to locate his friend Emilio and get off of the island as quickly as possible, reporter Valerie remains determined to investigate the strange situation and get as many details as possible for her upcoming story. Later, when Jack, Valerie, and Emilio are captured and taken to the secret lab of genius scientist Dr. Krieger, Valerie is extended an invitation to join the doctor in announcing his latest findings to the world. Though it finally seems as if Valerie has gotten just the scoop needed to make her story, the situation quickly turns chaotic when one of Dr. Kreiger's creatures escapes from the lab and sets out on a murderous rampage.


Product Highlights
Video Trailer:
Product Details
Edition:
Unrated
Number of Discs:
1
Rating:
Not Rated
Film Country:
Canada
UPC:
883476011905
Additional Details
Genre:
Action/Adventure
Format:
DVD
Display Format:
Unrated
Most relevant reviews
by

Far Cry The Movie

The reason I decided to buy the FarCry Movie is because I am a massive fan of the first 2 games of the series (and subsequent re-release). Not so into FarCry 2 though.
I was rather excited to find that there was a movie of the game, as video game conversions are 1 of my favourite types of movie.

I loved everything about it, it kept to the storyline. Mostly. It had interesting effects and a few surprising cameos from stars.

I disliked the fact they chose to stick with the original PC storyline as the Xbox story was a little more intricate, despite how closed ended it may have been.

But all in all it is quite enjoyable and highly suggestible to anyone who is a fan of the PC version.