Fantastic Four: Rise of the Silver Surfer [Original Motion Picture Soundtrack] by John Ottman (CD, Jun-2007, Sony Music Distribution (USA))
---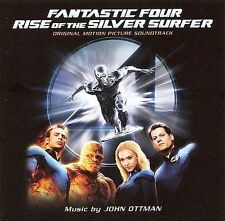 $5.00+ $2.50 Shipping
Est. Feb. 11 - Feb. 17 deliveryFrom Suffern, New York
About this product
Album Features
UPC:
886971088823
Artist:
John Ottman
Format:
CD
Release Year:
2007
Record Label:
Sony Music Distribution (USA)
Genre:
Soundtracks
Track Listing
1. film score: Silver Surfer Theme Fantastic Four: Rise of the Silver Surfer
2. film score: Galactus Destroys / Opening: Galactus Destroys / Opening Fantastic Four: Rise of the Silver Surfer
3. film score: Pursuing Doom Fantastic Four: Rise of the Silver Surfer
4. film score: Wedding Day Jitters Fantastic Four: Rise of the Silver Surfer
5. film score: Chasing The Surfer Fantastic Four: Rise of the Silver Surfer
6. film score: Camp Testosterone / Meeting The Surfer: Camp Testosterone / Meeting The Surfer Fantastic Four: Rise of the Silver Surfer
7. film score: A Little Persuasion Fantastic Four: Rise of the Silver Surfer
8. film score: Botched Heroics Fantastic Four: Rise of the Silver Surfer
9. film score: Someone I Once Knew Fantastic Four: Rise of the Silver Surfer
10. film score: The Future / Doom's Deal: Doom's Deal / The Future Fantastic Four: Rise of the Silver Surfer
11. film score: Sibling Switch Fantastic Four: Rise of the Silver Surfer
12. film score: Outside Help Fantastic Four: Rise of the Silver Surfer
13. film score: Springing The Surfer Fantastic Four: Rise of the Silver Surfer
14. film score: Doom's Double Cross Fantastic Four: Rise of the Silver Surfer
15. film score: Mr. Sherman / Under The Radar: Mr. Sherman / Under The Radar Fantastic Four: Rise of the Silver Surfer
16. film score: Four In One Fantastic Four: Rise of the Silver Surfer
17. film score: Silver Savior / Aftermath: Silver Savior / Aftermath Fantastic Four: Rise of the Silver Surfer
18. film score: Gunshot Wedding Fantastic Four: Rise of the Silver Surfer
19. film score: Noren Radd Fantastic Four: Rise of the Silver Surfer
Details
Playing Time:
51 min.
Producer:
John Ottman
Distributor:
Sbme Special Mkts.
Recording Type:
Studio
Recording Mode:
Stereo
SPAR Code:
n/a
Album Notes
Personnel: Katie Kirkpatrick (harp); Eun Mee Ahn, Lorenz Gamma, Alyssa Park, Tom Vos, Irina Voloshina, Katia Popov, Alan Grunfeld, Helen Nightengale, Phillip Levy , Christine E. Frank, Pat Johnson , Marc Sazer, Lily Ho Chen, Yelena Yegoryan, Agnes Gottschewski, Julie Rogers, Paul Henning, Sid Page, Richard Altenbach, Jacqueline Brand , Roberto Cani, Bruce Dukov, Natalie Leggett, Sara Parkins, Sarah Thornblade, Roger Wilkie, Darius Campo, Susan Rishik, Josefina Vergara, Christian Hebel (violin); Matt Nabours, Marlow Fisher, Brian Dembow, Keith Greene, Roland Kato, Dave Walther , Thomas Dienner, Alma Fernandez, Darrin McCann, Andrew Duckles (viola); Trevor Handy, Timothy Landauer, Erika Duke-Kirkpatrick, David Mergen, Ira Glansbeek, Paula J. Fehrenbach, Larry Corbett, Stephen Erdody , Dane Little, Andrew Shulman, Cecilia Tsan (cello); Julie Long , Susan Greenberg (flute); Phillip O'Connor , Mike Grego, Gary Bovyer (clarinet); Leanne Becknell (oboe); Rose Corrigan (bassoon); Jon Lewis , Rick Baptist, Wayne Bergeron (trumpet); Paul Klintworth, Phillip Yao , John A. Reynolds, Kristy Morrell, Nathan Campbell , Todd Miller , Richard Todd , Brad Warnaar (French horn); Alex Iles, Phillip Teele, Charles Loper, William Frank "Bill" Reichenbach Jr. , Lori Stuntz (trombone); Doug Tornquist (tuba); Randy Kerber (piano); Don Williams (timpani); Daniel Greco , Bob Zimmitti, M.B. Gordy, Wade Culbreath (percussion).Recording information: The Newman Stage, Twentieth Century Fox.
Most relevant reviews
by

Great Soundtrack

If you love the sound and music in the movie then this is the must get soundtrack. Loaded with favorites. Reasonable price and a great soundtrack to collect. Highly Recommended!

by

Complete Mistake

I thought I was buying the movie(DVD), not the sound track (CD). I threw it away without opening it...