Elite Ops: Renegade 5 by Lora Leigh (2010, Paperback)
---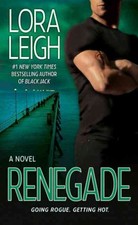 $8.01Free shipping
Est. Feb. 17 - Feb. 24 deliveryFrom Indian Trail, North Carolina
About this product
Synopsis
As a bridal shop owner, Mikayla Martin helps make women's wedding dreams come true. Her own life, however, has become a nightmare since she witnessed a murder--and got an up-close-and-personal look at the killer. What's worse: Sheknowsshe knows him. But the police, after doing an alibi check, don't believe her. It's up to Mikayla to prove them wrong...and do whatever it takes to solve the murder by herself. Elite Ops agent Nikolai Steele, code name Renegade, is asked to pay an old comrade a favor. This friend swears he's no killer--and Nik believes him--even though he's been mistaken as one by Mikayla. So Nik goes to set her straight...but the moment he lays eyes on the fiery and determined beauty, he knows he's in too deep. A woman this irresistible can only mean trouble and, sure enough, after sticking her nose in one too many places, someone wants Mikayla dead. Now Nik must find a way to keep her safe, clear his friend's name,andfind the real killer, who remains on the loose...

Elite Ops agent Nikolai Steele, code named Renegade, is on a special assignment involving a beautiful woman. But his involvement is about to go beyond the call of duty--and into the realm of dangerous desire. Original.


Product Identifiers
ISBN-10
0312945833
ISBN-13
9780312945831


Key Details
Author
Lora Leigh
Number Of Pages
416 pages
Series
Elite Ops Ser.
Format
Paperback
Publication Date
2010-08-31
Language
English
Publisher
St. Martin's Press


Additional Details
Series Volume Number
5
Copyright Date
2010


Dimensions
Weight
7.1 Oz
Height
1 In.
Width
4.2 In.
Length
6.7 In.


Target Audience
Group
Trade


Classification Method
LC Classification Number
PS3612.E357
Dewey Decimal
813.6
Dewey Edition
22


Reviews
"Leigh delivers in her latest work. The plot stays on track and the small-town setting serves the story well. Mikayla and Nik are well-developed characters who share a sweet and erotic passion. This is a hot one for the bookshelf!" -- RT Book Reviews 4.5 STARS! "Renegade is a wonderful combination of all the right elements-smoldering romance, suspense, and mystery. Add to that the cast of interesting characters-and their pasts-and you have the perfect recipe for one amazing novel." -- Night Owl Romance "RENEGADE will have you breathless in places and it gets your blood running hot with the physical attraction between Mikayla and Nik."-- Romance Reviews Today

HEAT SEEKER"Leigh's pages explode with a hot mixture of erotic pleasures."--Romantic Times BOOKreviewsMAVERICK"A phenomenal read."--Romance Junkies"Scorching-hot sex, deadly secrets and a determined assassin add up to another addicting Leigh thriller. Leigh's ability to credibly build damaged characters who are both intriguing and intense gives her stories that extra punch."--Romantic Times BOOKreviews"Sex and violence power the satisfying second installment of Leigh's Elite Ops series."--Publishers Weekly"Full of wrenching emotion and self-flagellation by the hero, the new series of Elite Ops promises to be even better than the sexy SEALs at this rate."--Night Owl Romance"With her customary panache for emotionally intense, sensual characters, the author attracts readers into every world she creates. This fabulous follow-up toWild Cardis no exception to the rule."--A Romance ReviewWILD CARD "Highly emotional and addicting...an intoxicating first installment of a brand new series." --Romance Junkies"Ferocious passion!" --Romantic Times BOOKreviewsKILLER SECRETS"A smoldering hot new espionage tale. This chapter of Leigh's SEAL saga reverberates with deadly danger."--Romantic Times BOOKreviewsHIDDEN AGENDAS"Treachery and intrigue combine with blistering hot sensuality in this chapter of Leigh's SEAL saga. The title of this book is particularly apt, since many of the characters are not what they seem, and betrayal can have deadly consequences. Leigh's books can scorch the ink off the page."--Romantic Times BOOKreviews"An evocative and captivating read."--Romance Junkies


Most relevant reviews
by

renegade

i buy all lora leigh books . i like to read special authors. her heros are bigger than life. i sometimes skip over love scenes, her books dont need that crap and the cursing and filthy language. so i skip it

by

Renegade by Lora Leigh

Renegade by Lora Leigh, this one is good , better than the previos one of the series, I like the guys, and enjoy see the rest of the team

by

renegade by lora leigh

BACK OF BOOK SAYS:

A BRIDAL SHOP OWNER, MIKAYLA MARTIN helps make women's wedding dreams come true. her own life, however, has become a nightmare since she witnessed a murder and got an up close and personal look at the killer. what's worse: she knows she knows him. but the police after doing an alibi check don't believe her. it's up to mikayla to prove them wrong and do whatever it takes to solve the murder by herself.

I usually like these type of books, but i didn't connect with this.

We could actually do without the first 132 pages.
They met, they interact, and then he say's he's leaving.
it's like the book ends, then someone trys to shoot the heroine.
then the rest of the book turns into a murder mystery and love story.