Dynamite Headdy (Sega Genesis, 1994) - European Version
---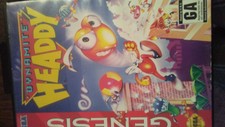 $26.00+ $3.00 Shipping
Est. Jul. 28 - Aug. 10 deliveryFrom Pompano Beach, Florida
---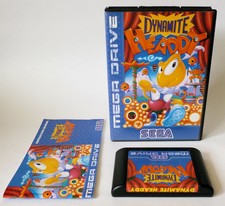 $59.99 Buy It Now
Free shipping
About this product
Product Information
Product Information

Dynamite Headdy is a fast paced action game starring Headdy, a bird-like
creature who can change heads as the situation arises. In the game, players can choose from 15 different utilitarian heads for Headdy.

The Slammer Head is used like a hammer and can bash enemies out of the way. The Vacuum Head can suck up small enemies. The Spike Head painfully pokes bad guys, and the Spring Head allows Headdy to swing across pits, grab onto objects, and even shoot basketball in a hidden stage. Other heads have other useful functions.

To finish a game of Dynamite Headdy, the player must make it through 15 levels and defeat Dark Demon. Defeating the demon will reveal a secret ending for Headdy and the world he has saved.
Product Identifiers
Game

Dynamite Headdy

MPN

4974365615437

UPC

4974365615437
Key Features
Platform

Sega Genesis

Genre

Action, Adventure

Location

Europe
Tech Details
Control Elements

Gamepad/Joystick

Number of Players

1

Release Year

1994
Most relevant reviews
by

Fun and unique, Dynamite Headdy shows more quality work from Treasure

The second Genesis Treasure game released in the US, this game is very different than its predecessor, Gunstar Heroes, but maintains the Treasure hallmarks that made it great. One of the first things I noticed was how colorful the graphics were. Visually, this game is very impressive. It is bright and the characters are well-designed. Also, this game includes the Treasure hallmark of massive, multi-sprite bosses. The gameplay is perhaps more conventional, but still very fun. Headdy can launch his head in eight directions, allowing him to attack enemies and latch onto objects. He can find other heads in the stages and switch, giving him new abilities and moves. This system is very dynamic, although it is not quite as dynamic as the weapon system in Gunstar Heroes. One negative is the difficulty. The US version is more difficult than the Japanese version, and it is possible that it was made too difficult. It will be quite a challenge to beat this game. Overall, however, this is another excellent effort from Treasure.Read full review

by

Dynamite Headdy-One of the Best Games on the Genesis

Dynamite Headdy may not be as well known as Classics such as Sonic the Hedgehog and Golden Axe, but this is one of the most creative and entertaining games that the genesis has to offer. Developed by Treasure (the company that made Gunstar Heroes and Ikaruga), this platformer features Headdy, the puppet protagonist, who defeats enemies and obstacles by shooting his head at them. He can obtain upgrades that allow him to transform his head into a hammer, a laser, a plane, and several others. The thing that distinguishes Dynamite Headdy from other games is the bizarre and colorful backgrounds and enemies. Most of the games is themed around puppets and other toys as you battle your way through a huge world in an effort to return Dynamite Headdy's world back to normal after it has been taken over by the "Dark Demon", the evil puppet king. The music is excellent and will be stuck in your head for a while after playing this game.

Dynamite Headdy is a 1 player game and is acceptable for all ages.

Check out my Video Game Store at http://stores.ebay.com/ealgamesRead full review