Disney Parks: The Secrets, Stories, Magic Behind the Scenes (Blu-ray/DVD, 2010, 2-Disc Set, Includes Digital Copy)
---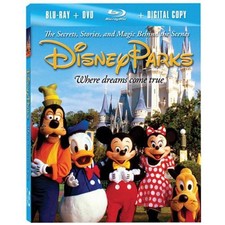 $6.56Free shipping
Est. Feb. 9 - Feb. 17 deliveryFrom US
About this product
Product Highlights
Video Trailer:
Product Details
Edition:
Includes Digital Copy
Number of Discs:
2
UPC:
033937039010
Additional Details
Genre:
Sports/Recreation
Format:
Blu-ray/DVD
Display Format:
Includes Digital Copy
Most relevant reviews
by

Bottom line.... An excellent need to have video!

Disney Parks: The Secrets, Stories, Magic Behind the Scenes is essential for anyone looking to visit Disney World or Disneyland! It points out all the attractions and shows and restaurants and anything Disney at the resorts! I really liked how they showed all the ins and outs and also explained how things worked! Simply a real great video filled with knowledge of what the Parks can offer to people looking to plan they're vacation!

by

DISNEY PARKS

IF YOU ARE A BIG FAN OF THE DISNEY TREASURES, THEN THIS IS SIMULAR, AND IN BLU RAY, ITS LIKE THE DISNEY TREASURES BEHIND THE SCENES, AND SECRETS STORIES AND MAGIC ALL IN ONE, IT SHOWS YOU WANTS GOING ON IN THE DISNEY DARKS, & LIKE IT SAYS BEHIND THE SCENES, AND IF YOU LOVE GOING TO DISNEY PARKS, THEN THIS IS WORTH WATCHING.