Dirigent Mercenary Corps: Officer-Cadet by Rick Shelley (1998, Paperback)
---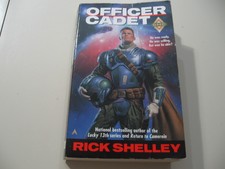 $4.79Free shipping
Est. Jul. 27 - Aug. 1 deliveryFrom Boykins, Virginia
About this product
Product Identifiers
ISBN-10

0441005268

ISBN-13

9780441005260
Key Details
Author

Rick Shelley

Number Of Pages

288 pages

Series

Dirigent Mercenary Corps

Format

Paperback

Publication Date

1998-05-01

Language

English

Publisher

Penguin Publishing Group
Dimensions
Weight

5 Oz

Height

0.8 In.

Width

4.2 In.

Length

6.8 In.
Most relevant reviews
by

Officer-Cadet by Rick Shelley

I loved it! The book is very fast passed keeping your heart pounding as the main character fight his way through. This book is written on ground combat in the future. IF you love a good Sci-fi book i highly recommend it!