Diamonds Are Forever (VHS, 1995, NO LONGER AVAILABLE)
---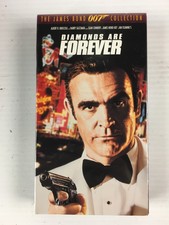 $2.99+ $2.98 Shipping
Est. Feb. 18 - Feb. 25 deliveryFrom Southeastern, Pennsylvania
About this product
Superspy James Bond (Sean Connery) gets tangled up in the wild world of international diamond smuggling. But hold on--the mission is not quite so simple as it seems; his chase of the jewel thieves leads him to conspirators with plans for unleashing a nuclear armageddon on an unsuspecting planet. The majority of the action takes place on the gaudy, glittering streets of Las Vegas, as Bond negotiates the grotesque terrain with his customary aplomb and fancy mechanical gadgets. As always, he manages to dally with several sexy bombshells along the way, including the wonderful Lana Wood as Plenty O'Toole. Connery is as suave and entertaining as ever, taking on the menacing Charles Gray, who is trying his hand at playing Bond's archenemy, Blofeld. Look for the car chase down a narrow alley.


Product Highlights
Video Trailer:
Product Details
Edition:
NO LONGER AVAILABLE
Number of Tapes:
1
Rating:
PG (MPAA)
Film Country:
United Kingdom
Sound:
HiFi Sound
UPC:
027616273239
Additional Details
Genre:
Action/Adventure
Format:
VHS
Display Format:
NO LONGER AVAILABLE
Most relevant reviews
by

Diamonds are forever

great movie awesome theme song great leading lady all around excellent

sssssssssssssssssssssssssssssssssssssssssss

by

Connery is back, and more bored than ever!

This is an alright Bond flick. The producers paid Connery a record breaking sum to come back one final time, and the fact that they had to beg him to come back really shows. Connery seems bored at times and manages to just barely dribble out his lines. As for the rest of the film, it's your average Bond. Not bad, not good.