Desecration : Antichrist Takes the Throne No. 9 by Tim LaHaye and Jerry B. Jenkins (2001, Cassette, Unabridged)
---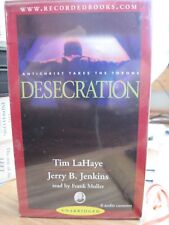 $15.00+ $2.61 Shipping
Est. Aug. 3 - Aug. 10 deliveryFrom Abington, Massachusetts
Great Prices on Fiction & Literature
About this product
Synopsis
Synopsis

The exciting ninth book in the Left Behind series that has sold over 2.5 million copies in hardcover is now available in trade paperback. In November 2001 Desecration was #1 on the New York Times, USA Today, Wall Street Journal, Publishers Weekly, and CBA Marketplace best-seller lists. With 50 million products sold, the Left Behind series is an international phenomenon.
Product Identifiers
ISBN-10

0788789643

ISBN-13

9780788789649
Key Details
Author

Jerry B. Jenkins,Tim LaHaye

Edition Description

Unabridged

Series

The Left Behind Ser.

Format

Cassette

Publication Date

2001-12-10

Language

English

Publisher

Recorded Books, LLC
Additional Details
Series Volume Number

No. 9

Number of Volumes

6 vols.

Copyright Date

2001
Classification Method
Dewey Decimal

813/.54

Dewey Edition

21
Most relevant reviews
by

LEFT BEHIND SERIES

I LOVE THE LEFT BEHIND SERIES..THEY ARE TIMELY AND VERY USEFUL AT THIS POINT IN AMERICAS', AND THE WORLDS' DELIMMAS..THEY ARE ALMOST PROPHETIC IN NATURE..MY HUSBAND WAS BORN WITH WATER ON THE BRAIN,AND AS A RESULT,CANNOT READ.THESE BOOKS ON TAPES ARE VERY USEFUL..EBAY WAS VERY INSTRUMENTAL IN ME BEING ABLE TO FIND THE SERIES IN AN AFFORDABLE MARKET..I AM GRATEFUL..THANK YOU...BELLE HOWELL

by

Very close to Biblical end times

I enjoyed the character depiction of what the time when the antichrist claiming "his place." Although I do not agree with some differences in Biblical events, it is an interesting and drama-filled. It is something that will definitely give you something to think about.