Definitive Technology IWSub 10/10 Passive Subwoofer
---
OUR TOP PICK
delivery
Est. Sep 16 - Sep 23From Castaic, California
---

$792.00 Buy It Now
Free shipping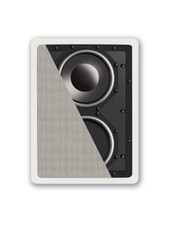 $775.00 Buy It Now
Free shipping

$949.00 Buy It Now
Free shipping
Top Selling in Home Speakers & Subwoofers
About this product
Description
Description

The Definitive IWSub 10/10 is an in-wall subwoofer ideal for your home theater system that occupies not even a single inch of your floor. The frequency response of 16 Hz - 200 Hz in this Definitive subwoofer covers wider range of frequencies for superior performance. With 4 ohms of impedance, this Definitive speaker is capable of producing maximum audio even in low power. The 10-inch long-excursion woofer in this Definitive subwoofer is attached to 10-inch infrasonic radiator to deliver deeper, louder and tighter bass. Due to its paint-able bezel and grille, this Definitive speaker will virtually disappear in your room. You can put the Definitive IWSub 10/10 in pairs in every room or simply fix it in your room alone for experiencing the all new way of watching movies.
Product Identifiers
Brand

Definitive Technology

Model

IWSub 10/10

MPN

IWSUB1010

UPC

093207010545
Key Features
Speaker Type

Passive Subwoofer

Mounting

In-wall / Ceiling

Construction

1-Way

Outdoor/Indoor

Indoor
Technical Details
Frequency Responses

16 Hz - 200 Hz

Impedance

4 ohm

Connectivity

Wired
Design
Available Colors

Black,White
Dimension
Width

15.5 in.

Height

21 in.

Woofer Size

10 in.

Weight

30 lb
Most relevant reviews
by

Amazing ! A Real Monster, Surprized by the output, Careful placement.

THIS IS A REAL MONSTER ! From the first time I powered this on ( Rush, Time Machine Live concert on Bluray) I thought this Sub Encloser was coming out of the wall. Based on my previous experience with Definitive Technology Sub Amp 600 powering two Passive enclosures custom built with one 12" 4ohm sub and one 14" passive radiator in each mounted to and under my sub flooring in my home theater , I knew this amplifier had plenty of power as well as enough headroom to fill my HT with massive lows. So upon helping my friend ( the Rush Fan) set up his HT we decided to use all DT in walls. Surly I was a little skeptical at first... Being the "Big Tower Guy,I must admit, Very Impresive ! The Definitive Technology In Wall Sub10/10 paired with the DT Sub amp was truelly the icing on the cake. My Hats off to the Engineers at Definitive for such a great design in In Wall Speakers. And of course the " Downside", and thier always is, this In Wall System, Including the DT IW 10/10 was all installed on an interior wall adjacent to the Master Bedroom and made sounds in that room that should not be heard (or felt) by any decent humans, so a big warning ! Carefully placement is real critical if you don't live alone or expect guest that don't like Rush. Oh yeh, "The Rush Fan" he lives alone.Read full review
This item doesn't belong on this page.
Thanks, we'll look into this.