Darker Than Night by John Lutz (2004, Paperback)
---

$3.97Free shipping
Est. Aug. 3 - Aug. 16 deliveryFrom United States
---
More options
$3.97 Buy It Now
Free shipping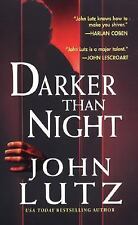 $3.97 Buy It Now
Last oneFree shipping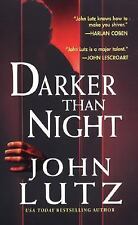 $3.89 Buy It Now
Free shipping
Great Prices on Fiction & Literature
About this product
Synopsis
Synopsis

In order to salvage his career and reputation, ex-homicide cop Frank Quinn, framed for a crime he did not commit, will stop at nothing to catch a serial killer known as The Night Prowler who preys on successful married couples. Original.
Product Identifiers
ISBN-10

0786016337

ISBN-13

9780786016334
Key Details
Author

John Lutz

Number Of Pages

400 pages

Format

Paperback

Publication Date

2004-11-01

Language

English

Publisher

Kensington Publishing Corporation
Dimensions
Weight

9.3 Oz

Height

1.5 In.

Width

4.3 In.

Length

6.8 In.
Classification Method
LC Classification Number

PS3562.U854

Dewey Decimal

813.54

Dewey Edition

0
Most relevant reviews
by

Great Read

This must be the first book in the series with Detective Frank Quinn, I of course read the wrong one first. Quinn along with 2 other detectives are hunting for a serial killer that stalks his victims, leaves presents in their apartments, enters their bedrooms at night and watches them sleep befor he decides the time is right for the kill. The ending is shocking because of who the killer really is, not who I thought it was.
If you haven't read anything by this author and you like this style of books, I don't think you will be disappointed at all in this book. I have liked every book I have read by him.

by

Easy to put down.

Ok. I really dedicated myself to reading this book. It took me like 4 months. This story starts out good and keeps you some what interested in the middle and the ending sucked. This is the first book I read of his but I believe in second chances so I will read another and let you know what I think.