Culture and Politics: The Theory Toolbox : Critical Concepts for the Humanities, Arts, and Social Sciences by Jeffrey T. Nealon and Susan Searls Giroux (2003, Paperback)
---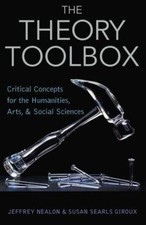 $36.37Free shipping
Est. Aug. 8 - Aug. 23 deliveryFrom Crawley
About this product
Synopsis
Synopsis

A second edition of this textbook is now available. This text involves students in understanding and using the 'tools' of critical social and literary theory from the first day of class. It is an ideal first introduction before students encounter more difficult readings from critical and postmodern perspectives. Nealon and Giroux describe key concepts and illuminate each with an engaging inquiry that asks students to consider deeper and deeper questions. Written in students' own idiom, and drawing its examples from the social world, literature, popular culture, and advertising, The Theory Toolbox offers students the language and opportunity to theorize rather than positioning them to respond to theory as a reified history of various schools of thought. Clear and engaging, it avoids facile description, inviting students to struggle with ideas and the world by virtue of the book's relentless challenge to common assumptions and its appeal to common sense.,This text involves students in understanding and using the tools of critical social and literary theory from the first day of class. It is an ideal first introduction before students encounter more difficult readings from critical and postmodern perspec
Product Identifiers
ISBN-10

0742519945

ISBN-13

9780742519947
Key Details
Author

Jeffrey T. Nealon,Susan Searls Giroux

Number Of Pages

232 pages

Series

Culture and Politics

Format

Paperback

Publication Date

2003-08-18

Language

English

Publisher

Rowman & Littlefield Publishers, Incorporated
Additional Details
Copyright Date

2003

Illustrated

Yes
Dimensions
Weight

11.4 Oz

Height

0.6 In.

Width

5.5 In.

Length

8.6 In.
Classification Method
LCCN

2003-007438

LC Classification Number

HM585.N43 2003

Dewey Decimal

301.01

Dewey Edition

22
Reviews
Reviews

Always readable, often funny, and frequently profound, Nealon and Giroux tackle the most difficult and timely topics in theory with aplomb. An entire education in one tidy package. Students will find it invaluable, and advanced scholars will read it under the covers at night.,From their opening engagement with the punk song 'Why Theory?,' Nealon and Searls Giroux perform an impassioned and compelling argument for the productive work of theory as a crucial social action. As the title suggests, The Theory Toolbox , instead of simply reviewing schools of theory and criticism, aims to help students figure out what they can do with theoretical concepts as tools for living. Organized to provide a productive immersion in key concepts such as agency and ideology, The Theory Toolbox engenders pragmatic encounters with theorists from Nietzsche to Deleuze. Through pertinent political and social examples, Nealon and Searls Giroux succeed in demonstrating why theory matters and, most remarkably, why postmodern theory matters in everyday life. In succeeding, they make a critical intervention in undergraduate education and in wider debates over theory and practice. This book should be required reading for all students desiring to become thinking citizens.,The Theory Toolbox is original and unusual, breaking the standard mold of social theory textbooks. It puts itself in the young theory student's shoes and imagines what s/he needs to know, and how best to convey difficult material. A distinctive feature of this book is its interdisciplinarity, borrowing concepts from humanities disciplines in order to enrich social and sociological theory. My theory students will definitely need this path-breaking book in their toolboxes.