Critical Media Studies Institutions, Politics, and Culture: Entertaining the Citizen : When Politics and Popular Culture Converge by Liesbet van Zoonen (2004, Paperback)
---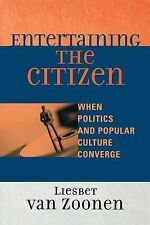 $20.63Free shipping
Est. Feb. 12 - Feb. 26 deliveryFrom San Diego, California
About this product
Synopsis
Can politics be combined with entertainment? Can political involvement and participation be fun? Politics and popular culture are converging all the time, whether itAIs in Arnold SchwarzeneggerAIs election as governor of California or in political television dramas and movies like The West Wing and Dave. This book encourages readers to think about how links between entertainment and politics have the potential to rejuvenate citizenship, endorse civic values, and sustain civic commitment. Visit our website for sample chapters


Product Identifiers
ISBN-10
074252907X
ISBN-13
9780742529076


Key Details
Author
Liesbet van Zoonen
Number Of Pages
192 pages
Series
Critical Media Studies: Institutions, Politics, and Culture Ser.
Format
Paperback
Publication Date
2004-11-04
Language
English
Publisher
Rowman & Littlefield Publishers, Incorporated


Additional Details
Copyright Date
2004


Dimensions
Weight
9.9 Oz
Height
0.6 In.
Width
6 In.
Length
9 In.


Target Audience
Group
Trade


Classification Method
LCCN
2004-010653
LC Classification Number
E169.12.Z655 2004
Dewey Decimal
306.2/0973
Dewey Edition
22


Reviews
Current scholarship on the relationships between media, popular culture, and politics tends to focus on the problematic if not downright negative aspects of their interaction. The of Liesbet van Zoonen stands out because of the very different approach the author adopts and the refreshing analyses she produces as a consequence. ...van Zoonen delivers here a fundamental book with necessary and perhaps challenging arguments on popular culture, which should be put forth in any classroom where teachings on politics and the public are high on the agenda.

Entertaining the Citizen is...vigorously argues and it offers some fascinating insights into the ways that popular culture and politics come together. It will undoubtedly and deservedly serve as an important catalyst to serious consideration of how politics can connect to the everyday culture of citizens and thereby connect citizens to politics.

Liesbet van Zoonen's important new book is unusual in the way it treats politics and entertainment with equal seriousness. The result is a study that makes us rethink our understanding of political and cultural life--and of the ways they engage with each other.

This book not only brings a welcome international perspective to a U.S.-dominated discussion, but also theorizes the relationship between popular culture and governing as a form of political praxis. The result is an intriguing proposal to remedy the crisis of citizen participation in liberal democracies.

This is a well-written and long-overdue book that focuses on the debated relationship between politics and popular culture. Specifically, the author sets out to find ways in which readers, viewers, and listeners can be entertained whilst being citizens, refuting previous modernist media-malaise accounts that regard politics and entertainment as separate spheres that need to be kept apart for their own protection.