Counseling the Culturally Diverse : Theory and Practice by Derald Wing Sue and David Sue (2007, Hardcover, Revised)
---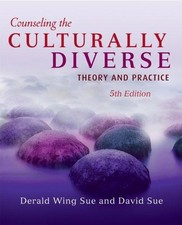 $7.27Free shipping
Est. Jun. 6 - Jun. 17 deliveryFrom United States
About this product
Synopsis
Synopsis

Completely updated, the most widely used and critically acclaimed text on multicultural counseling, Counseling the Culturally Diverse: Theory and Practice, Fifth Edition offers students and professionals essential and thought-provoking material on the theory, research, and practice of multicultural counseling. Authors Derald Wing Sue and David Sue-pioneers in this field-define and analyze the meaning of diversity and multiculturalism and include coverage of racial/ethnic minority groups as well as multiracial individuals, women, gays and lesbians, the elderly, and those with disabilities. The Fifth Edition of this classic resource introduces new research and concepts, discusses future directions in the field, and includes updated references. New and important highlights include: Opening personal narratives in Chapter 1 that present poignant journeys in cultural competence Cutting-edge material related to the most recent research, theoretical formulations, and practice implications Discussion of unconscious and subtle manifestations of racial, gender, and sexual orientation bias and discriminationknown as microaggressions Coverage of social justice counseling Content on minority group therapists Attention to counseling and special circumstances involving racial/ethnic populations With its unique conceptual framework for multicultural therapy, Counseling the Culturally Diverse: Theory and Practice, Fifth Edition remains the best source of real-world counseling preparation for students as well as the most enlightened, influential guide for professionals.
Product Identifiers
ISBN-10

0470086327

ISBN-13

9780470086322
Key Details
Author

David Sue,Derald Wing Sue

Number Of Pages

576 pages

Edition Description

Revised

Format

Hardcover

Publication Date

2007-08-10

Language

English

Publisher

Wiley & Sons, Incorporated, John
Additional Details
Edition Number

5

Copyright Date

2008

Illustrated

Yes
Dimensions
Weight

41.1 Oz

Height

1.3 In.

Width

7.9 In.

Length

9.6 In.
Target Audience
Group

Scholarly & Professional
Classification Method
LCCN

2007-002547

LC Classification Number

BF637.C6S85 2007

Dewey Decimal

158.3

Dewey Edition

23
Table Of Content
Table Of Content

Preface.SECTION I: THE MULTIPLE DIMENSIONS OF MULTICULTURAL COUNSELING AND THERAPY.PART I: THE AFFECTIVE AND CONCEPTUAL DIMENSIONS OF MULTIUCLTURAL COUNSELING AND THERAPY.Chapter 1. The Multicultural Journey to Cultural Competence: Personal Narratives.Chapter 2. The Superordinate Nature of Multicultural Counseling and Therapy.PART II: THE POLITICAL DIMENSIONS OF MENTAL HEALTH PRACTICE.Chapter 3. The Politics of Counseling and Psychotherapy.Chapter 4. Sociopolitical Considerations of Trust and Mistrust in Multicultural Counseling/Therapy.Chapter 5. Racial, Gender and Sexual Orientation Microaggressions: Implications for Counseling and Psychotherapy.PART III: THE PRACTICE DIMENSIONS OF MULTICULTURALCOUNSELING/THERAPY.Chapter 6. Barriers To Effective Multicultural Counseling/Therapy.Chapter 7. Culturally Appropriate Intervention Strategies.Chapter 8. Multicultural Family Counseling/Therapy.Chapter 9. Nonwestern And Indigenous Methods Of Healing.PART IV: WORLDVIEW DIMENSIONS IN MULTICULTURAL COUNSELING/THERAPY.Chapter 10. Racial/Cultural Identity Development: Therapeutic Implications.Chapter 11. White Racial Identity Development: Therapeutic Implications.PART V: SOCIAL JUSTICE DIMENSIONS IN COUNSELING/THERAPY.Chapter 12. Social Justice Counseling/Therapy.SECTION II: MULTICULTURAL COUNSELING AND SPECIFIC POPULATIONS.PART VI: COUNSELING AND THERAPY INVOLVING MINORITY GROUP COUNSELORS/THERAPISTS.Chapter 13. Minority Group Therapists: Working With Majority And Other Minority Clients..PART VII: COUNSELING AND THERAPY WITH RACIAL/ETHNIC MINORITY POPULATIONS.Chapter 14. Counseling African Americans.Chapter 15. Counseling American Indians and Alaskan Natives.Chapter 16. Counseling Asian Americans.Chapter 17. Counseling Hispanic/Latino Americans.Chapter 18. Counseling Multiracial Descent Persons.PART VIII: COUNSELING AND SPECIAL CIRCUMSTANCES INVOLVING RACIAL/ETHNIC POPULATIONS.Chapter 19. Counseling Arab Americans.Chapter 20. Counseling Jewish Americans.Chapter 21. Counseling Immigrants.Chapter 22. Counseling Refugees.PART IX: COUNSELING AND THERAPY WITH OTHER MULTICULTURAL POPULATIONS.Chapter 23. Counseling Sexual Minorities.Chapter 24. Counseling Older Adults.Chapter 25. Counseling Women.Chapter 26. Counseling Persons With Disabilities.References.Author Index.Subject Index.