Cool Stuff: Cool Stuff for Bath and Beauty : Creative Projects for Kids by Pam Scheunemann (2012, Hardcover)
---
OUR TOP PICK
$34.98
Free Shipping
List price $44.65 Save 21%
delivery
Est. Sep 6 - Sep 13From Lakewood, New Jersey
Returns
Buyer pays return shipping
---

$3.97 Buy It Now
Free shipping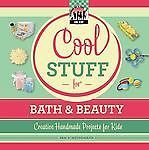 $3.97 Buy It Now
Free shipping
Great Prices on Children & Young Adults
About this product
Synopsis
Synopsis

If you like to make stuff, the books in this series are for you! Each book offers a variety of fun and easy-to-make projects. Just by following the step-by-step instructions and adding a pinch of creativity, you'll be able to make some really cool stuff! Get the satisfaction of making handmade things for yourself, your family and your friends! Book jacket.,This fun title gives kids lots of ideas for projects to make for bath and beauty using a wide variety of materials. Kids will learn about the uses and types of essential oils, carrier oils and bath salts. The projects range from making bath bubblers to lotion to hair ties and beyond! There's sure to be something that will interest all types of kids. Not only will they learn new craft techniques, they'll be able to experience the joy of giving handmade gifts! Step-by-step instructions and photographs make the projects easy to follow. Checkerboard Library is an imprint of ABDO Publishing Company.
Product Identifiers
ISBN-10

1617149802

ISBN-13

9781617149801
Key Details
Author

Pam Scheunemann

Number Of Pages

32 pages

Series

Cool Stuff

Format

Hardcover

Publication Date

2012-01-01

Language

English

Publisher

ABDO Publishing Company
Additional Details
Number of Volumes

1 vol.

Copyright Date

2012

Illustrated

Yes
Dimensions
Weight

10.6 Oz

Height

0.3 In.

Width

8 In.

Length

8 In.
Target Audience
Group

Juvenile Audience

Grade From

Third Grade

Grade To

Sixth Grade
Classification Method
LCCN

2011-003049

LC Classification Number

RA778.5.S34 2012

Dewey Decimal

613/.4

Dewey Edition

22
This item doesn't belong on this page.
Thanks, we'll look into this.