Common Sense Christian Living by Edith Schaeffer (1983, Hardcover)
---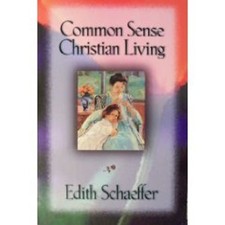 $5.99Free shipping
Est. Jul. 26 - Aug. 8 deliveryFrom Jackson, Georgia
About this product
Product Identifiers
ISBN-10

0840752806

ISBN-13

9780840752802
Key Details
Author

Edith Schaeffer

Number Of Pages

248 pages

Format

Hardcover

Publication Date

1983-01-01

Language

English

Publisher

Nelson Incorporated, Thomas
Classification Method
LCCN

83-008263

LC Classification Number

BV4501.2.S282 1983

Dewey Decimal

248.4

Dewey Edition

19
Most relevant reviews
by

Common Sense Christian Living

I love everything that Edith Schaeffer writes. She has such a great view on parenting, family, Christianity, and life in general. She provides more informaiton on how to live our lives than any other author or TV personality (Oprah) out there.

I will read her books over and over again. I just can't stop, I'm addicted to what she has to say. There are no better books out there for a mother, mom-to-be, or wife. Her advice comes straight from God. What could be better than that?

by

"Common Sense Christian Living"

This book was recommended by one of my favorite authors, Elizabeth George, in her book "A Woman After God's Own Heart". I saw it on EBay for such a good price, PLUS it is personally signed by the author to one of the ladies who attended the viewing of the study series of the book. This is a wonderful book, first of all because even though it was written in 1983, Mrs. Schaeffer is so plugged into the Holy Spirit that this book is even more apropos for us today. And second, because the advice, suggestions, comments she gives are so relevant to our Christian walk. A little wordy at times, but certainly worth the read!