Commando Raid (Atari 2600, 1982)
---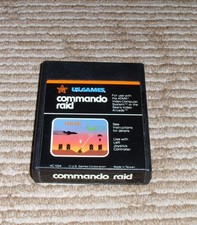 $4.05+ $2.50 Shipping
Est. Jul. 27 - Aug. 1 deliveryFrom Plymouth, Pennsylvania
About this product
Product Information
Product Information

Warning! Android commando raiders are attacking your buildings! Enemy helicopters are flying in, dropping dozens, if not hundreds, of android paratroopers.

From your gun emplacement (that stands in the middle of four buildings), you must shoot the paratroopers out of the sky. If you let one of them land on a building, it will destroy a portion of that building. If a building is hit three times, it is destroyed.

When a building has been demolished by android paratroopers, it is considered to be under commando control. Future paratroopers that land on that ruined site will tunnel (one section for every landing paratrooper) underground, eventually planting a bomb under your gun emplacement and blowing you to smithereens. For every 10,000 points you score, one of your buildings will be completely restored.

In addition to helicopters and paratroopers, you must deal with bomb-dropping aircraft. If you don't shoot these mysterious aircraft or their bombs out of the sky, your gun placement and all of your buildings will be destroyed.
Product Identifiers
Publisher

U.S. Games

Game

Commando Raid
Key Features
Platform

Atari 2600

Genre

Shooter

Location

USA
Tech Details
Control Elements

Gamepad/Joystick

Number of Players

1

Release Year

1982
Most relevant reviews
by

Commando Raid on Atari 2600

Commando Raid on Atari 2600 is one of those really good games that not too many people know about. Manning a turret, your goal is to protect the nearby buildings and shoot down enemy helicopters and paratroopers. If the paratroopers manage to get past your defenses though, they will destroy your buildings and begin tunneling underneath. If the enemy manages to tunnel beneath your cannon, they can detonate a bomb and the game is over.

Commando Raid makes the most out of the Atari 2600's limited graphical capabilities. The main backdrop is a gorgeous sunset that reminds me a lot of Chopper Command for the same console. The gameplay is fun, addicting and requires strategy and skill. Highly recommended.

In the early Nineties a similar game called Night Raid was released for the home PC. If you are a fan of Commando Raid, hopefully you can track down this shareware title online for free. It stays true to the Commando Raid formula while adding a few of it's own elements as well.Read full review

by

Reminisce

Challenging and fun

Verified purchase: Yes | Condition: Used