Cocoto Kart Racer (Nintendo Wii, 2008)
---

$12.47+ $2.95 Shipping
Est. Aug. 2 - Aug. 9 deliveryFrom Miami, Florida
---
More options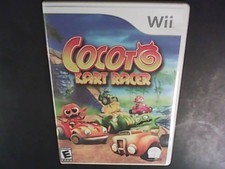 $7.98 Buy It Now
Free shipping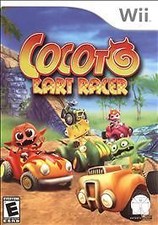 About this product
Product Information
Product Information

Neko Entertainment's genre-hopping imp hits the tarmac for some classic go-kart racing in Cocoto Kart Racer. The holy cauldron of Cocoto has disappeared, and the only way the imps can avoid losing all their powers is by beating their opponents in a series of races. Gamers can choose from four good characters or eight bad characters as they race through Abyss, Volcano, Atlantis, Paradise, and Jungle game worlds from the magical universe of Cocoto. Twelve unique karts are available to players, and the six game modes include championship mode, time challenge, and a multiplayer mode for up to four racers.
Product Identifiers
Publisher

Conspiracy Entertainment Corporation

Game

Cocoto Kart Racer

MPN

815315000931

UPC

815315000931
Key Features
Platform

Nintendo Wii

ESRB Rating

E - Everyone

Genre

Racing

Location

USA
Tech Details
Control Elements

Gamepad/Joystick

Number of Players

1-4

Release Year

2008

Game Special Features

Choose from 12 unique characters from the magical Cocoto universe


Race though five diverse worlds in a dozen different karts


Fierce multiplayer action for up to four



Game Series

Cocoto Series
Most relevant reviews
by

cocoto kart racer wii game

Its a nice game, good value but a bit hard to use two controllers one for gas and one for brake. Wish it was more like Mario Kart simple 1 and 2 button for game play

Verified purchase: Yes | Condition: Used

by

Good game with excellent graphics.

It is a fun game but I was disappointed you can't use the wii remote like in Mario Kart. You have to use the nunchuck and control the car with the little joy stick controller instead of the actual wii remote. Other than that it it very responsive and play very much like mario kart. All three of my kids like it too.

by

Great Game

Love everything about this game. My kids play it all the time. Was actually one of the games they requested when our wii was new!