Children's Songbook by Reader's Digest Editors (1985, Hardcover)
---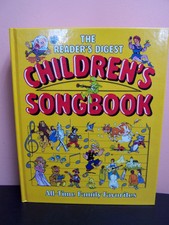 $22.99+ $4.55 Shipping
Est. Aug. 1 - Aug. 8 deliveryFrom Perham, Minnesota
---
More options

$5.95 Buy It Now
Free shipping
Great Prices on Children & Young Adults
About this product
Synopsis
Synopsis

A delightful collection of 135 children's songs in easy-to-play arrangements that the whole family can enjoy. Highlights include Muppet songs, nursery rhymes, movie and show tunes, nonsense songs, songs for happy days and holidays, and much, much more! Also includes a bonus lyric book with guitar chord frames. Handy stay-open binding! Hardcover.,First published in 1985, this Reader's Digest best-selling classic has sold over 200,000 copies. Carryon or start your own tradition as adults and children gather to sing from this collection of easy-to-play children's favorite songs-from movies, shows, nursery rhymes, holiday songs, folksongs, nonsense songs, and more. This collection is great for all ages, familiar songs that children love to sing, and a must have for parents, grandparents, and teachers-including musical games and activity ideas to add to the fun. The 252-page easy-to-read music book with more than 130 all-time favorite family songs is spiral-bound to lie flat, and includes a 40-page lyric book. And bring these favorite melodies to life by listening to the recordings on the companion CD.
Product Identifiers
ISBN-10

0895772140

ISBN-13

9780895772145
Key Details
Author

Reader's Digest Editors

Number Of Pages

256 pages

Format

Hardcover

Publication Date

1985-11-01

Language

English

Publisher

Reader's Digest Association, Incorporated, The
Dimensions
Weight

45.5 Oz

Height

1.1 In.

Width

9.8 In.

Length

12.5 In.
Target Audience
Group

Trade

Grade From

Preschool

Grade To

up

Age Range

3 - UP