Chicken Soup for the Soul: A Second Chicken Soup for the Woman's Soul : 101 More Stories to Open the Hearts and Rekindle the Spirits of Women by Marci Shimoff, Jennifer R. Hawthorne, Jack Canfield, Jennifer Read Hawthorne and Mark Victor Hansen (1998, Hardcover, Teacher's Edition of Textbook)
---

$3.97Free shipping
Est. Aug. 3 - Aug. 16 deliveryFrom Dallas, Texas
---
More options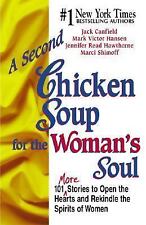 $3.97 Buy It Now
Free shipping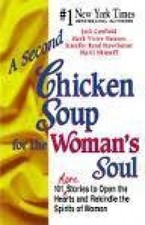 $15.00 Buy It Now
Free shipping
Great Prices on Textbooks, Education
About this product
Synopsis
Synopsis

This latest collection of stories celebrates the shared experiences of being a woman in a 101 new ways. You will be moved by these true accounts of how women like you have embraced life's defining moments by finding love, dealing with loss, overcoming obstacles and achieving their dreams and goals. Like spending time with a trusted friend, A Second Chicken Soup for the Woman's Soul will put difficult times into perspective, renew your faith in yourself and make you aware of the miracles in your own life.
Product Identifiers
ISBN-10

1558746218

ISBN-13

9781558746213
Key Details
Author

Jack Canfield,Jennifer R. Hawthorne,Jennifer Read Hawthorne,Marci Shimoff,Mark Victor Hansen

Number Of Pages

328 pages

Edition Description

Teacher's Edition of Textbook

Series

Chicken Soup for the Soul

Format

Hardcover

Publication Date

1998-10-01

Language

English

Publisher

Health Communications, Incorporated
Additional Details
Copyright Date

1998

Illustrated

Yes
Dimensions
Weight

27.3 Oz

Height

1.1 In.

Width

5.5 In.

Length

8.5 In.
Classification Method
LCCN

98-027114

LC Classification Number

BJ1610.S37 1998

Dewey Decimal

158.1/28/082

Dewey Edition

21