Cedar Cove: 1225 Christmas Tree Lane 12 by Debbie Macomber (2011, MP3 CD, Unabridged)
---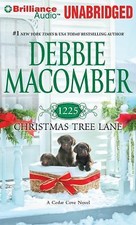 $13.65+ $2.99 Shipping
Est. Aug. 2 - Aug. 9 deliveryFrom 46016
About this product
Synopsis
Synopsis

The people of Cedar Cove know how to celebrate Christmas. Like Grace and Olivia and everyone else, Beth Morehouse expects this Christmas to be one of her best. Her small Christmas-tree farm is prospering, her daughters and her dogs are happy and well, and her new relationship with local vet Ted Reynolds is showing plenty of romantic promise.But...someone recently left a basket filled with puppies on her doorstep, puppies she#146;s determined to place in good homes. That#146;s complication number one. And number two is that her daughters Bailey and Sophie have invited their dad, Beth#146;s ex-husband, Kent, to Cedar Cove for Christmas. The girls have visions of a mom-and-dad reunion dancing in their heads.Asalwaysinlife -- andinCedarCove -- therearesurprises,too.Morethanone family#146;s going to have a puppy under the tree. More than one scheme will go awry. And more than one romance will have a happy ending!What would the holidays be without a newChristmas story from Debbie Macomber?
Product Identifiers
ISBN-10

1455820008

ISBN-13

9781455820009
Key Details
Author

Debbie Macomber

Edition Description

Unabridged

Series

Cedar Cove

Format

MP3 CD

Publication Date

2011-09-27

Language

English

Publisher

Brilliance Publishing
Additional Details
Series Volume Number

12

Number of Volumes

1 vol.
Dimensions
Height

0.5 In.

Width

5.4 In.

Length

7.5 In.
Classification Method
Dewey Decimal

FIC

Dewey Edition

23