Butterfly Kisses by Jeff Carson (Singer) (CD, Jun-1997, Curb)
---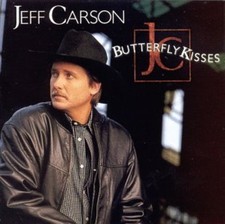 $16.75Free shipping
Est. Feb. 16 - Feb. 29 deliveryFrom North Carolina
About this product
Album Features
UPC:
715187785922
Artist:
Jeff Carson (Singer)
Format:
CD
Release Year:
1997
Record Label:
Curb
Genre:
Contemporary Country, Country
Track Listing
1. Butterfly Kisses
2. Here's the Deal
3. She's the One
4. Do It Again
5. Try Bein' Me
6. If You Wanna Get to Heaven
7. The Stone
8. Hangin' by a Thread
9. As One as Two Can Get
10. Cheatin' on Her Heart
11. Today I Started Loving You Again - (duet with Merle Haggard)
12. Butterfly Kisses / Daddy's Little Girl - (duet with Kippi Brannon)
Details
Playing Time:
43 min.
Contributing Artists:
Merle Haggard, Terry McMillan, Kippi Brannon
Producer:
Chuck Howard
Distributor:
WEA (Distributor)
Recording Type:
Studio
Recording Mode:
Stereo
SPAR Code:
n/a
Album Notes
Personnel: Jeff Carson (vocals, harmonica); Merle Haggard, Kippi Brannon (vocals); Michael Spriggs (acoustic guitar); J.T. Corenflos, Kerry Marx, Brent Rowan, Farley Compton (electric guitar); Paul Franklin (steel guitar); Larry Franklin (fiddle); Terry McMillan (harmonica, percussion); David Hungate, Mike Brignardello (bass); Eddy Bayers, Greg Morrow (drums).From the opening song of BUTTERFLY KISSES, his second record for Curb, Jeff Carson sets himself apart from the rugged, tough-guy persona so many male country stars adopt. It's Carson's eye for life's small successes which gives BUTTERFLY KISSES some of its best moments. On the inspirational ballad "The Stone," Carson relates the stories of a recovering alcoholic who has just made it three years without a drink and an unwed teenage mother who, against the odds, became the town doctor. "Like the stone from David's sling," Carson sings, "a little faith is a mighty thing."While ballads seem to predominate, the album also has its fair share of up-tempo material. "Do It Again" and "Hangin By A Thread" are up-tempo rockers which will have your fingers snapping and your feet moving. And while "wholesome" themes do inform some of the material here, the record isn't just for the straight and narrow set. On "If You Wanna Get to Heaven," Carson advises "you gotta raise a little Hell."
Most relevant reviews
by

very good cd

i bought this product because i could not find any of these songs on the internet. it is hard to believe that with music like this that it cannot be found anywhere else but on this album.