Breakout (Atari 2600, 1978)
---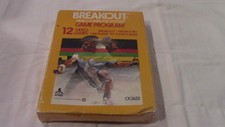 $13.94Free shipping
Est. Jul. 30 - Aug. 4 deliveryFrom Chandler, Arizona
Top Selling in Video Games
About this product
Product Information
Product Information

Breakout for the Atari 2600 is a near-perfect port of the 1976 arcade classic. With its rotary analog control and simple, but crisp color graphics, the game is a perfect fit for the 2600's paddle controllers and limited, though serviceable memory. In addition, the home version sports a number of game variations, including timed matches, steerable and catchable balls, team play, invisible walls and Breakthru games. In Breakthru, the ball penetrates through the wall after hitting a brick, destroying many more bricks.
Product Identifiers
Publisher

Atari Inc.

Game

Breakout
Key Features
Platform

Atari 2600

Genre

Action, Adventure

Location

USA
Tech Details
Control Elements

Gamepad/Joystick

Number of Players

1-4

Release Year

1978

Game Series

Breakout Series
Most relevant reviews
by

Breakout still all time classic Atari

What can you say? It is a classic and even though it is a relatively simple concept, it is challenging. If you like the classic Atari games, this is one of the originals.